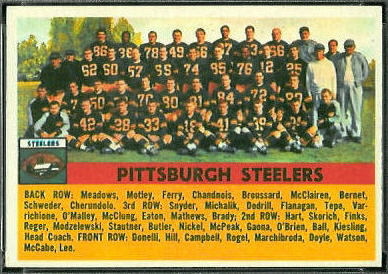 Want to use this image? See the About page.
Pittsburgh Steelers Team - 1956 Topps #63
This card pictures the 1955 Steelers team. For a larger version of the image on the card, see the 1955 Pittsburgh Steelers page at steelersuk.com.
Move your cursor over the card to see the players' names.
Estimated value: ex $7, nm $24 explain
Player
#
Pro Team
Position
College
Hometown
Honors

Herman

Ball

coach

Pittsburgh Steelers

coach

Davis and Elkins

Elkins, WV

Ed

Bernet

83

Pittsburgh Steelers

end

SMU

Dallas, TX

Pat

Brady

18

Pittsburgh Steelers

quarterback

,

punter

Nevada

,

Bradley

Seattle, WA

Fred

Broussard

56

Pittsburgh Steelers

center

Texas A and M

,

Northwestern State (LA)

DeQuincy, LA

Jack

Butler

80

Pittsburgh Steelers

defensive back

St. Bonaventure

Pittsburgh, PA
Pro Football Hall of Fame

Leon

Campbell

28

Pittsburgh Steelers

fullback

Arkansas

Bauxite, AR

Lynn

Chandnois

49

Pittsburgh Steelers

halfback

Michigan State

Fayette, MI

Charles

Cherundolo

coach

Pittsburgh Steelers

center

,

coach

Penn State

Old Forge, PA

Dale

Dodrill

60

Pittsburgh Steelers

linebacker

Colorado State

Mayo

Donelli

trainer

Pittsburgh Steelers

trainer

Dick

Doyle

41

Pittsburgh Steelers

defensive back

Ohio State

Vic

Eaton

12

Pittsburgh Steelers

quarterback

,

punter

Missouri

Savannah, GA

Lou

Ferry

78

Pittsburgh Steelers

tackle

Villanova

Chester, PA

Jim

Finks

7

Pittsburgh Steelers

quarterback

Tulsa

Pro Football Hall of Fame, Saints Hall of Fame, Vikings Ring of Honor

Dick

Flanagan

57

Pittsburgh Steelers

guard

Ohio State

Bob

Gaona

72

Pittsburgh Steelers

tackle

Wake Forest

Ambridge, PA

Jack

Hart

equip mgr

Pittsburgh Steelers

equipment manager

Jim

Hill

42

Pittsburgh Steelers

defensive back

Tennessee

Knoxville, TN

Walt

Kiesling

head coach

Pittsburgh Steelers

guard

,

tackle

St. Thomas

St. Paul, MN
Pro Football Hall of Fame

Jack

Lee

equip mgr

Pittsburgh Steelers

equipment manager

Ted

Marchibroda

18

Pittsburgh Steelers

quarterback

Detroit

Colts Ring of Honor

Ray

Mathews

25

Pittsburgh Steelers

end

Clemson

Dayton, PA

Rich

McCabe

24

Pittsburgh Steelers

defensive back

Pittsburgh

Pittsburgh, PA

Jack

McClairen

87

Pittsburgh Steelers

end

Bethune-Cookman

Willie

McClung

76

Pittsburgh Steelers

tackle

,

defensive tackle

Florida A and M

Marion, AL

Bill

McPeak

84

Pittsburgh Steelers

defensive end

Pittsburgh

New Castle, PA

Ed

Meadows

86

Pittsburgh Steelers

defensive end

Duke

Oxford, NC

Art

Michalik

62

Pittsburgh Steelers

middle guard

,

kicker

St. Ambrose

Chicago, IL

Dick

Modzelewski

79

Pittsburgh Steelers

defensive tackle

Maryland

Brackenridge, PA
College Hall of Fame, Outland Trophy

Marion

Motley

36

Pittsburgh Steelers

fullback

South Carolina State

,

Nevada

Leesburg, GA
Browns Ring of Honor, Pro Football Hall of Fame

Elbert

Nickel

81

Pittsburgh Steelers

end

Cincinnati

Jack

O'Brien

89

Pittsburgh Steelers

end

Florida

Jeannette, PA

Joe

O'Malley

85

Pittsburgh Steelers

defensive end

Georgia

Scranton, PA

John

Reger

50

Pittsburgh Steelers

linebacker

Pittsburgh

Pittsburgh, PA

Fran

Rogel

33

Pittsburgh Steelers

fullback

Penn State

North Braddock, PA

John

Schweder

66

Pittsburgh Steelers

guard

Pennsylvania

Nick

Skorich

coach

Pittsburgh Steelers

coach

,

guard

Cincinnati

Bellaire, OH

Bob

Snyder

coach

Pittsburgh Steelers

tailback

,

coach

Ohio

Freemont, OH

Ernie

Stautner

70

Pittsburgh Steelers

defensive end

,

defensive tackle

Boston College

Saranac Lake, NY
Pro Football Hall of Fame

Lou

Tepe

55

Pittsburgh Steelers

center

,

linebacker

Duke

North Bergen, NJ

Frank

Varrichione

74

Pittsburgh Steelers

tackle

Notre Dame

Natick, MA

Sid

Watson

39

Pittsburgh Steelers

halfback

Northeastern

Andover, MA