Welcome to the Vintage Football Card Gallery!
The Vintage Football Card Gallery contains thousands of pictures of football cards and related collectibles dating back to 1888. The main features of the Gallery are described below. For a comprehensive list of features, see A Tour of the Vintage Football Card Gallery. (The cards pictured in the Gallery are not for sale. I do have a sales site, though, called Nearmint's Vintage Football Cards.)
The images in the gallery are organized by set, and the sets are grouped into categories. Just click on a category below to see all of the sets in the category. You can also search the gallery by player, team, or college, or you can use the Advanced Search page to do fancy searches.
Fun Pages
Here are a few miscellaneous pages, from vintage football card wrappers to puzzles on the backs of the cards.
Virtual Uncut Sheets
The Gallery includes numerous "virtual uncut sheets" that show how the cards were arranged on sheets before cutting. By studying uncut sheets, you can often see why some cards are scarcer in high grades than others. For an overview of the subject, see my blog article, "U is for Uncut Sheets."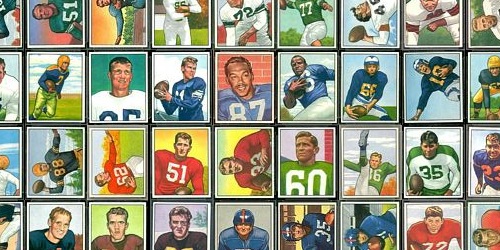 Here is the full list of virtual uncut sheets: 1948 Bowman, 1948 Leaf, 1949 Leaf, 1950 Bowman, 1951 Bowman, 1952 Bowman Large, 1953 Bowman, 1954 Bowman, 1955 Bowman, 1956 Topps, 1957 Topps, 1958 Topps, 1959 Topps, 1960 Fleer, 1960 Topps, 1961 Fleer, 1961 Topps, 1962 Fleer, 1962 Topps, 1963 Fleer, 1963 Topps, 1965 Philadelphia, 1966 Philadelphia, 1967 Philadelphia, 1967 Topps, 1968 Topps, 1969 Topps, 1970 Topps Super.
Most Watched eBay Auctions
Wondering which eBay items are hot? The Most Watched eBay Auctions page will show you the listings with the most watchers for any eBay category: football cards, baseball cards, stamps, coins, Pez dispensers, real estate, women's shoes, etc. Check it out!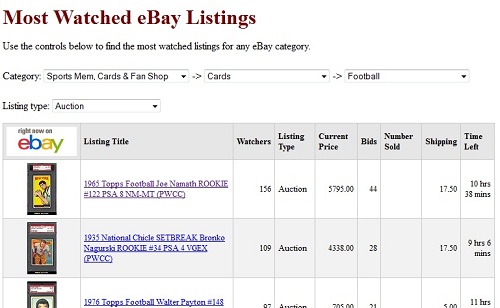 Sports Card Auction Finder
The Sports Card Auction Finder is tool for searching eBay that is tailored for vintage sports cards. For most vintage sets it has search criteria built in. For example, if you search for 1968 O-Pee-Chee CFL football cards, it will find all football cards auctions containing 1968 and O-Pee-Chee, OPC, or CFL. If you search for old baseball cards, it will find all cards that match either the set name (e.g., 1929 Kashin) or the catalog number (e.g., R316).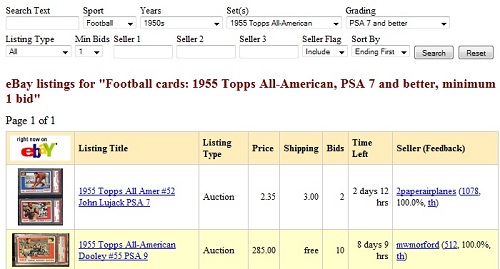 The tool also lets you specify a minimum grade for graded cards, e.g., all cards graded PSA 7 or better. It allows you to filter out listings for specific sellers, and to filter out auctions without any bids on them. Finally, for each auction, it provides a link to the seller's long-term feedback history at toolhaus.org. Give it a try!
Interactive Team Cards
The Gallery also contains a few "interactive" team cards. If you hold your cursor above a player's image on one of these cards, your browser will show you who the player is, and whether he appears on other cards in the Gallery. Check them out: 1959 Topps New York Giants, 1961 Topps Green Bay Packers, 1963 Topps Dallas Cowboys, 1967 Philadelphia Cleveland Browns. (The card pictured here is not interactive, but clicking on it will take you to one that is.)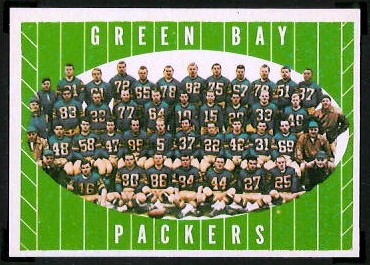 Football Card Values
For many of the cards in the Gallery--and more all the time--I have provided approximate retail values. For details on how I got these values, see my price guide page.