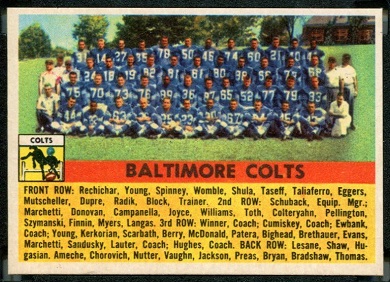 Want to use this image? See the About page.
Baltimore Colts Team - 1956 Topps #48
This card pictures the 1955 Baltimore Colts team. Hall of Fame NFL coach Don Shula is in the front row. Leroy Vaughn, father of major league baseball's Mo Vaughn, is in the back row.
Move your cursor over the card to see the players' names.
Estimated value: ex $7, nm $16 explain
Player
#
Pro Team
Position
College
Hometown
Honors

Alan

Ameche

35

Baltimore Colts

fullback

Wisconsin

Kenosha, WI
Heisman Trophy, College Hall of Fame

Raymond

Berry

82

Baltimore Colts

end

SMU

Corpus Christi, TX
Pro Football Hall of Fame

Jack

Bighead

80

Baltimore Colts

end

,

defensive end

Pepperdine

Beggs, OK

Ed

Block

trainer

Baltimore Colts

trainer

Missouri

,

Columbia

Bill

Bradshaw

40

Baltimore Colts

punter

,

quarterback

Bowling Green

Monte

Brethauer

88

Baltimore Colts

end

,

defensive back

Oregon

Portland, OR

Walter

Bryan

21

Baltimore Colts

defensive back

Tarleton State

,

Texas Tech

Olney, TX

Joe

Campanella

73

Baltimore Colts

guard

Ohio State

Dick

Chorovich

78

Baltimore Colts

tackle

Miami Ohio

St. Clairsville, OH

Lloyd

Colteryahn

87

Baltimore Colts

end

Maryland

Brentwood, PA

Frank

Cumiskey

coach

Baltimore Colts

end

,

coach

Ohio State

Youngstown, OH

Art

Donovan

70

Baltimore Colts

defensive tackle

Boston College

,

Notre Dame

New York, NY
Pro Football Hall of Fame

L.G.

Dupre

45

Baltimore Colts

halfback

Baylor

New Orleans, LA

Doug

Eggers

67

Baltimore Colts

linebacker

South Dakota State

Wagner, SD

Bill

Evans

??

Baltimore Colts

guard

Miami Ohio

Weeb

Ewbank

coach

Baltimore Colts

coach

Miami Ohio

Richmond, IN
Jets Ring of Honor

Tom

Finnin

77

Baltimore Colts

tackle

Detroit

Chicago, IL

Harry

Hugasian

27

Baltimore Colts

halfback

Stanford

Pasadena, CA

Tom

Hughes

coach

Baltimore Colts

coach

Purdue

,

Missouri

Ken

Jackson

74

Baltimore Colts

tackle

,

guard

Texas

Austin, TX

Don

Joyce

76

Baltimore Colts

defensive end

,

defensive tackle

Tulane

New Orleans, LA

Gary

Kerkorian

18

Baltimore Colts

quarterback

Stanford

Los Angeles, CA

Bob

Langas

83

Baltimore Colts

defensive end

Wayne State

Detroit, MI

Frank

Lauterbur

coach

Baltimore Colts

coach

Mount Union

Cincinnati, OH

Jim

Lesane

31

Baltimore Colts

defensive back

,

halfback

Citadel

,

Virginia

Raleigh, NC

Gino

Marchetti

75

Baltimore Colts

defensive end

San Francisco

Antioch, CA
Pro Football Hall of Fame

Frank

McDonald

81

Baltimore Colts

end

Miami Florida

Jim

Mutscheller

84

Baltimore Colts

end

Notre Dame

Beaver Falls, PA

Bob

Myers

79

Baltimore Colts

defensive tackle

Ohio State

Springfield, OH

Buzz

Nutter

50

Baltimore Colts

center

VPI

Summersville, WV

Jack

Patera

61

Baltimore Colts

linebacker

Oregon

Bismarck, ND

Bill

Pellington

65

Baltimore Colts

linebacker

Rutgers

Ramsey, NJ

George

Preas

60

Baltimore Colts

tackle

VPI

Roanoke, VA

Emil

Radik

??

Baltimore Colts

halfback

Nebraska - Omaha

George

Radosevich

72

Baltimore Colts

tackle

,

center

Pittsburgh

Brentwood, PA

Bert

Rechichar

44

Baltimore Colts

defensive back

Tennessee

Belle Vernon, PA

Alex

Sandusky

68

Baltimore Colts

guard

Clarion Teachers College

McKees Rocks, PA

Jack

Scarbath

19

Baltimore Colts

quarterback

Maryland

Baltimore, MD
College Hall of Fame

Freddie

Schubach Jr.

equip. mgr.

Baltimore Colts

equipment manager

George

Shaw

14

Baltimore Colts

quarterback

Oregon

Don

Shula

25

Baltimore Colts

coach

John Carroll

Grand River, OH
Dolphins Honor Roll, Pro Football Hall of Fame

Art

Spinney

63

Baltimore Colts

guard

Boston College

Saugus, MA

Dick

Szymanski

52

Baltimore Colts

center

Notre Dame

Toledo, OH

George

Taliaferro

20

Baltimore Colts

halfback

Indiana

Gary, IN
College Hall of Fame

Carl

Taseff

23

Baltimore Colts

halfback

,

defensive back

John Carroll

Parma, OH

Jesse

Thomas

41

Baltimore Colts

defensive back

Michigan State

Guthrie, OK

Zollie

Toth

36

Baltimore Colts

fullback

LSU

Leroy

Vaughn

46

Baltimore Colts

quarterback

Virginia Union

Baltimore, MD

Snake

Williams

89

Baltimore Colts

Charley

Winner

coach

Baltimore Colts

coach

Washington (St. Louis)

Somerville, NJ

Royce

Womble

26

Baltimore Colts

halfback

,

flanker

North Texas

Webb, TX

Buddy

Young

22

Baltimore Colts

halfback

Illinois

Chicago, IL
College Hall of Fame

Dick

Young

24

Baltimore Colts

running back

Tennessee-Chattanooga

Trumbull, CT