1956 Topps #114: Los Angeles Rams Team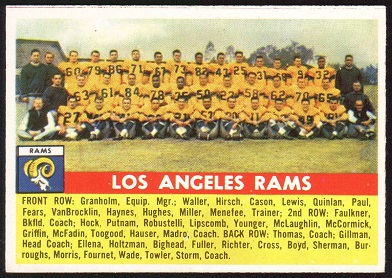 This card pictures the 1955 Los Angeles Rams team. One of the players, Jack Bighead, was with the Baltimore Colts until early in 1955, so he also appears on the Colts team card.
Move your cursor over the card to see the players' names.
Player
#
Pro Team
College
Honors

Jack

Bighead

86

Los Angeles Rams

Pepperdine

Bob

Boyd

82

Los Angeles Rams

Loyola (L.A.)

Don

Burroughs

25

Los Angeles Rams

Colorado State

Jim

Cason

41

Los Angeles Rams

LSU

Bobby

Cross

73

Los Angeles Rams

Kilgore Junior College

,

Stephen F. Austin

Jack

Ellena

60

Los Angeles Rams

UCLA

Jack

Faulkner

coach

Los Angeles Rams

Miami Ohio

Tom

Fears

80

Los Angeles Rams

UCLA

,

Santa Clara

Pro Football Hall of Fame, College Hall of Fame

Sid

Fournet

68

Los Angeles Rams

LSU

Frank

Fuller

71

Los Angeles Rams

Kentucky

Sid

Gillman

head coach

Los Angeles Rams

Ohio State

Pro Football Hall of Fame, Chargers Hall of Fame, College Hall of Fame

Bill

Granholm

equip. mgr.

Los Angeles Rams

Bob

Griffin

58

Los Angeles Rams

Arkansas

Art

Hauser

65

Los Angeles Rams

Xavier

Hall

Haynes

22

Los Angeles Rams

Santa Clara

Elroy

Hirsch

40

Los Angeles Rams

Wisconsin

,

Michigan

Pro Football Hall of Fame, College Hall of Fame

John

Hock

63

Los Angeles Rams

Santa Clara

Glenn

Holtzman

79

Los Angeles Rams

North Texas

Ed

Hughes

49

Los Angeles Rams

North Carolina State

,

Tulsa

Woodley

Lewis

20

Los Angeles Rams

Los Angeles City

,

Oregon

Gene

Lipscomb

78

Los Angeles Rams

Steelers Legends Team

Joe

Madro

coach

Los Angeles Rams

Tom

McCormick

23

Los Angeles Rams

Pacific

Bud

McFadin

62

Los Angeles Rams

Texas

College Hall of Fame

Leon

McLaughlin

50

Los Angeles Rams

UCLA

George

Menefee

trainer

Los Angeles Rams

Paul

Miller

81

Los Angeles Rams

LSU

Larry

Morris

31

Los Angeles Rams

Georgia Tech

College Hall of Fame

Don

Paul

57

Los Angeles Rams

UCLA

Duane

Putnam

61

Los Angeles Rams

Pacific

Volney

Quinlan

21

Los Angeles Rams

San Diego State

Les

Richter

67

Los Angeles Rams

California

College Hall of Fame, Pro Football Hall of Fame

Andy

Robustelli

84

Los Angeles Rams

Arnold College

Pro Football Hall of Fame, Giants Ring of Honor

Will

Sherman

43

Los Angeles Rams

St. Mary's

Lowell

Storm

coach

Los Angeles Rams

Cincinnati

Joe

Thomas

coach

Los Angeles Rams

Ohio Northern

Charles

Toogood

70

Los Angeles Rams

Nebraska

Dan

Towler

32

Los Angeles Rams

Washington and Jefferson

Norm

Van Brocklin

11

Los Angeles Rams

Oregon

College Hall of Fame, Pro Football Hall of Fame, Eagles Honor Roll

Bill

Wade

9

Los Angeles Rams

Vanderbilt

Ron

Waller

27

Los Angeles Rams

Maryland

Tank

Younger

35

Los Angeles Rams

Grambling

College Hall of Fame