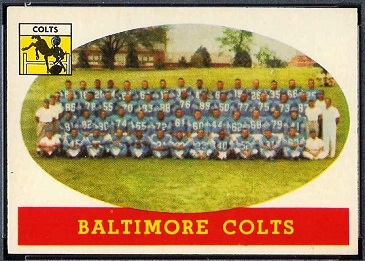 Want to use this image? See the About page.
Baltimore Colts Team - 1958 Topps #110
The picture on this card was taken in 1957, but before the team's roster was final. Some of the players in the photo were drafted by the Colts in 1957, but they did not play in the regular season.
Move your cursor over the card to see the players' names.
Estimated value: ex $4, nm $17 explain
Player
#
Pro Team
Position
College
Hometown
Honors

Alan

Ameche

35

Baltimore Colts

fullback

Wisconsin

Kenosha, WI
College Hall of Fame, Heisman Trophy

Connie

Baird

81

Baltimore Colts

end

Hardin-Simmons

Raymond

Berry

82

Baltimore Colts

end

SMU

Corpus Christi, TX
Pro Football Hall of Fame

Ordell

Braase

86

Baltimore Colts

defensive end

South Dakota

Mitchell, SD

Jack

Call

25

Baltimore Colts

halfback

Colgate

Cortland, NY

Dick

Chorovich

78

Baltimore Colts

tackle

Miami Ohio

St. Clairsville, OH

Eldon

Danenhauer

55

Baltimore Colts

tackle

Pittsburg State

Clay Center, KS

Cotton

Davidson

18

Baltimore Colts

quarterback

Baylor

Gatesville, TX

Milt

Davis

20

Baltimore Colts

halfback

Los Angeles City

,

UCLA

Muskogee, OK

Art

Donovan

70

Baltimore Colts

defensive tackle

Boston College

,

Notre Dame

New York, NY
Pro Football Hall of Fame

L.G.

Dupre

45

Baltimore Colts

halfback

Baylor

New Orleans, LA

Doug

Eggers

67

Baltimore Colts

linebacker

South Dakota State

Wagner, SD

Weeb

Ewbank

Baltimore Colts

coach

Miami Ohio

Richmond, IN
Jets Ring of Honor

Jug

Girard

Baltimore Colts

halfback

,

end

Wisconsin

Marinette, WI

Joe

Grisham

80

Baltimore Colts

end

Austin Peay

Jack

Harmon

Baltimore Colts

end

Eastern Oregon

Harwood

Hoeft

88

Baltimore Colts

end

South Dakota State

Ken

Jackson

74

Baltimore Colts

tackle

,

guard

Texas

Austin, TX

Don

Joyce

83

Baltimore Colts

defensive end

,

defensive tackle

Tulane

New Orleans, LA

Bill

Koman

65

Baltimore Colts

linebacker

North Carolina

Ambridge, PA

Gene

Lipscomb

76

Baltimore Colts

defensive tackle

Detroit, MI

Walt

Livingston

Baltimore Colts

halfback

Heidelberg

Ravenna, OH

Gino

Marchetti

89

Baltimore Colts

defensive end

San Francisco

Antioch, CA
Pro Football Hall of Fame

Chuck

McMillan

87

Baltimore Colts

defensive back

John Carroll

Cleveland, OH

Lenny

Moore

24

Baltimore Colts

halfback

Penn State

Reading, PA
Pro Football Hall of Fame

Jim

Mutscheller

84

Baltimore Colts

end

Notre Dame

Beaver Falls, PA

Steve

Myhra

64

Baltimore Colts

guard

,

kicker

North Dakota

Wahpeton, ND

Andy

Nelson

Baltimore Colts

defensive back

Memphis

Athens, AL

Buzz

Nutter

50

Baltimore Colts

center

VPI

Summersville, WV

Dick

Nyers

Baltimore Colts

defensive back

Indianapolis

Indianapolis, IN

Luke

Owens

72

Baltimore Colts

tackle

,

end

Kent State

Cleveland, OH

Jim

Parker

77

Baltimore Colts

guard

,

tackle

Ohio State

Macon, GA
College Hall of Fame, Outland Trophy, Pro Football Hall of Fame

Jack

Patera

61

Baltimore Colts

linebacker

Oregon

Bismarck, ND

Bill

Pellington

36

Baltimore Colts

linebacker

Rutgers

Ramsey, NJ

Jerry

Peterson

75

Baltimore Colts

defensive tackle

Texas

El Campo, CA

Bob

Pollard

47

Baltimore Colts

halfback

Penn State

George

Preas

60

Baltimore Colts

tackle

VPI

Roanoke, VA

Billy

Pricer

32

Baltimore Colts

fullback

Oklahoma

Perry, OK

Bert

Rechichar

44

Baltimore Colts

defensive back

Tennessee

Belle Vernon, PA

Alex

Sandusky

68

Baltimore Colts

guard

Clarion Teachers College

McKees Rocks, PA

Don

Shinnick

66

Baltimore Colts

linebacker

UCLA

Kansas City, MO

Don

Shula

25

Baltimore Colts

coach

John Carroll

Grand River, OH
Dolphins Honor Roll, Pro Football Hall of Fame

Art

Spinney

63

Baltimore Colts

guard

Boston College

Saugus, MA

Al

Stephenson

62

Baltimore Colts

tackle

Idaho State

Carl

Taseff

23

Baltimore Colts

halfback

,

defensive back

John Carroll

Parma, OH

Jesse

Thomas

40

Baltimore Colts

defensive back

Michigan State

Guthrie, OK

Ronnie

Underwood

41

Baltimore Colts

running back

Arkansas

Joe

Unitas

73

Baltimore Colts

tackle

Louisville

John

Unitas

19

Baltimore Colts

quarterback

Louisville

Pittsburgh, PA
Pro Football Hall of Fame

Bob

White

79

Baltimore Colts

tackle

Otterbein

Royce

Womble

26

Baltimore Colts

halfback

,

flanker

North Texas

Webb, TX

Dick

Young

31

Baltimore Colts

running back

Tennessee-Chattanooga

Trumbull, CT