1973 Topps Football Cards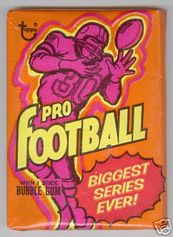 Topps drastically increased the size of its football card issue in 1973, going to 528 cards. (The 1971 Topps set contained 263 cards, and the 1972 Topps set contained 351.) I have not seen an uncut sheet of 1973 Topps cards, but I assume they were printed on two 264-card sheets. For the first time since 1967, Topps released its football cards in a single series.
Because the set was so much larger than previous football card issues, many of the players made their first appearance on a card in this set. By my rough count, the 1973 Topps set contains 197 rookie cards. The set also contains an odd feature I have not seen in another set: three "boyhood photo" cards. I am curious how the boyhood photos came about, and why there are only three of them. Maybe Topps just needed some filler cards to make it to 528?
Rookie cards of Pro Football Hall of Famers in the 1973 Topps set: Jim Langer, Jack Ham, Art Shell, Franco Harris, Dan Dierdorf, Jack Youngblood, Curley Culp, Ken Stabler. Rookie cards of Heisman Trophy winners in the 1973 Topps set: Pat Sullivan.
Image
Set
#
Card Title/Players
Pro Team
Position
College
Honors
Notes
Grades available at Nearmint Sports Cards
1973 Topps
1
1972 Rushing Leaders
Larry Brown
Washington Redskins
running back
Kansas State
Redskins Ring of Fame
O.J. Simpson
Buffalo Bills
running back
USC, City College of San Francisco
Heisman Trophy 1968, Bills Wall of Fame 1980, College Hall of Fame 1983, Pro Football Hall of Fame 1985
1973 Topps
2
1972 Passing Leaders
Earl Morrall
Miami Dolphins
quarterback
Michigan State
Norm Snead
New York Giants
quarterback
Wake Forest
1973 Topps
3
1972 Receiving Leaders
Fred Biletnikoff
Oakland Raiders
end
Florida State
Pro Football Hall of Fame 1988, College Hall of Fame 1991
Harold Jackson
Los Angeles Rams
wide receiver
Jackson State
1973 Topps
4
1972 Scoring Leaders
UPI named Marcol the NFC Rookie of the Year in 1972.
Bobby Howfield
New York Jets
kicker
Chester Marcol
Green Bay Packers
kicker
Hillsdale
Packers Hall of Fame 1987
1973 Topps
5
1972 Interception Leaders
Bill Bradley
Philadelphia Eagles
defensive back, punter
Texas
Eagles Honor Roll 1993
Mike Sensibaugh
Kansas City Chiefs
defensive back
Ohio State
1973 Topps
6
1972 Punting Leaders
Error card

Wilson's name is misspelled "Jerrell."
Dave Chapple
Los Angeles Rams
punter
UC Santa Barbara
Jerrel Wilson
Kansas City Chiefs
punter, running back
Southern Mississippi
Chiefs Hall of Fame 1988
1973 Topps
7
Bob Trumpy
Cincinnati Bengals
tight end, wide receiver
Utah
1973 Topps
8
Mel Tom
Philadelphia Eagles
defensive end
San Jose State
Rookie card
1973 Topps
9
Clarence Ellis
Atlanta Falcons
defensive back
Notre Dame
Rookie card
1973 Topps
10
John Niland
Dallas Cowboys
guard
Iowa
1973 Topps
11
Randy Jackson
Chicago Bears
tackle
Florida
Rookie card
1973 Topps
12
Greg Landry
Detroit Lions
quarterback
Massachusetts
1973 Topps
13
Cid Edwards
San Diego Chargers
running back
Tennessee State
Rookie card
1973 Topps
14
Phil Olsen
Los Angeles Rams
defensive tackle
Utah State
Rookie card
1973 Topps
15
Terry Bradshaw
Pittsburgh Steelers
quarterback
Louisiana Tech
Pro Football Hall of Fame 1989, College Hall of Fame 1996, Steelers All-Time Team
Bradshaw's brother, Craig Bradshaw, was a quarterback for the Houston Oilers in 1980.
1973 Topps
16
Al Cowlings
Houston Oilers
defensive end
USC
Rookie card
1973 Topps
17
Walker Gillette
St. Louis Cardinals
wide receiver
Richmond
Rookie card
1973 Topps
18
Bob Atkins
Houston Oilers
defensive back
Grambling
Rookie card
1973 Topps
19
Diron Talbert
Washington Redskins
defensive tackle
Texas
Rookie card
1973 Topps
20
Jim Johnson
San Francisco 49ers
defensive back
UCLA
Pro Football Hall of Fame 1994, 49ers Hall of Fame 2009
1973 Topps
21
Howard Twilley
Miami Dolphins
end
Tulsa
College Hall of Fame 1992
1973 Topps
22
Dick Enderle
New York Giants
guard
Minnesota
Rookie card
1973 Topps
23
Wayne Colman
New Orleans Saints
linebacker
Temple
Rookie card
1973 Topps
24
John Schmitt
New York Jets
center
Hofstra
Rookie card
1973 Topps
25
George Blanda
Oakland Raiders
quarterback, kicker
Kentucky
Pro Football Hall of Fame 1981
nm-mt

Buying? Search nearmintcards.com for 1973 Topps.

Show all eBay listings for 1973 Topps football cards.