1971 Topps Football Cards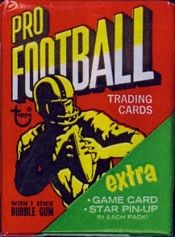 There are 263 cards in the 1971 Topps football card set; they were released in two series. Card number 106, the second series checklist, was released with both series, so it is a double print. Second series cards appear to have been printed in slightly smaller numbers that first series cards, so second series commons, in general, sell for a bit more.
Cards of AFC players have red borders, cards of NFC players have blue borders, and cards of all-stars from either conference have red-and-blue borders. The colored borders show wear easily, especially at the corners, so finding the cards in mint condition is challenging. Many of the cards were cut off-center, as well.
1971 Topps Game cards and 1971 Topps "Star Pin-Up" Posters were inserts in packs of 1971 Topps cards. Each poster has a football field and instructions for using the game cards printed on the back. The game, unfortunately, wasn't much fun.
Rookie cards of Pro Football Hall of Famers in the 1971 Topps set: Ken Houston, Willie Lanier, Joe Greene, Terry Bradshaw, Charlie Sanders, Roger Wehrli.
Image
Set
#
Card Title/Players
Pro Team
Position
College
Honors
Notes
Grades available at Nearmint Sports Cards
1971 Topps
1
John Unitas
Baltimore Colts
quarterback
Louisville
Pro Football Hall of Fame 1979
exmt
1971 Topps
2
Jim Butler
Atlanta Falcons
running back
Edward Waters College
nm
1971 Topps
3
Marty Schottenheimer
New England Patriots
linebacker
Pittsburgh
Chiefs Hall of Fame 2010
Rookie card
exmt
1971 Topps
4
Joe O'Donnell
Buffalo Bills
guard
Michigan
Rookie card
1971 Topps
5
Tom Dempsey
New Orleans Saints
kicker
Palomar Jr. College
Saints Hall of Fame 1989
1971 Topps
6
Chuck Allen
Pittsburgh Steelers
linebacker
Washington
Chargers Hall of Fame 1984
1971 Topps
7
Ernie Kellermann
Cleveland Browns
defensive back
Miami Ohio
1971 Topps
8
Walt Garrison
Dallas Cowboys
running back
Oklahoma State
Rookie card
1971 Topps
9
Bill Van Heusen
Denver Broncos
punter, wide receiver
Maryland
Rookie card
nm
1971 Topps
10
Lance Alworth
San Diego Chargers
end
Arkansas
Chargers Hall of Fame 1977, Pro Football Hall of Fame 1978, College Hall of Fame 1984
The Chargers traded Alworth to the Cowboys on May 19, 1971, for Pettis Norman, Ron East, and Tony Liscio. Alworth's 1971 Topps cards show him still with the Chargers.
1971 Topps
11
Greg Landry
Detroit Lions
quarterback
Massachusetts
Rookie card
nm
1971 Topps
12
Larry Krause
Green Bay Packers
running back
St. Norbert
Rookie card
1971 Topps
13
Buck Buchanan
Kansas City Chiefs
defensive tackle
Grambling
Chiefs Hall of Fame 1981, Pro Football Hall of Fame 1990, College Hall of Fame 1996
nm oc
1971 Topps
14
Roy Gerela
Houston Oilers
kicker
New Mexico State
Rookie card
nm
1971 Topps
15
Clifton McNeil
New York Giants
wide receiver
Grambling
1971 Topps
16
Bob Brown
Los Angeles Rams
tackle
Nebraska
College Hall of Fame 1993, Eagles Honor Roll 2004, Pro Football Hall of Fame 2004
exmt
1971 Topps
17
Lloyd Mumphord
Miami Dolphins
defensive back
Texas Southern
Rookie card
1971 Topps
18
Gary Cuozzo
Minnesota Vikings
quarterback
Virginia
nm
1971 Topps
19
Don Maynard
New York Jets
end
Texas-El Paso
Pro Football Hall of Fame 1987, Jets Ring of Honor 2010
1971 Topps
20
Larry Wilson
St. Louis Cardinals
defensive back
Utah
Pro Football Hall of Fame 1978, Cardinals Ring of Honor 2006
1971 Topps
21
Charlie Smith
Oakland Raiders
running back
Utah
nm
1971 Topps
22
Ken Avery
Cincinnati Bengals
linebacker
Southern Mississippi
Rookie card

This card pictures Avery in his Giants uniform, though he had not played for the Giants since 1968.
1971 Topps
23
Billy Walik
Philadelphia Eagles
wide receiver
Villanova
Rookie card
1971 Topps
24
Jim Johnson
San Francisco 49ers
defensive back
UCLA
Pro Football Hall of Fame 1994, 49ers Hall of Fame 2009
nm
1971 Topps
25
Dick Butkus
Chicago Bears
linebacker
Illinois
Pro Football Hall of Fame 1979, College Hall of Fame 1983

Buying? Search nearmintcards.com for 1971 Topps.

Show all eBay listings for 1971 Topps football cards.