Uncut Sheets of 1967 Topps Football Cards
The picture below shows the configuration of an uncut partial sheet of 1967 Topps football cards. The picture, which is modeled after a picture of a 1967 Topps proof sheet that appeared in an online auction, contains 44 of the 132 cards in the set. If you hold your cursor above a card, your browser should show you the number of the card and the name of the player. Clicking on a card will bring up the full-sized scan. (A real uncut sheet would not have black lines between the cards--that is an effect of scanning them individually.)
This is how the cards on the partial sheet are numbered. I don't see a pattern to the numbering, so I can't guess the configuration of the rest of the sheet.
The four rows shown here, plus eight more rows, would have made up a 132-card half-sheet. Since there are 132 cards in the 1967 Topps set, the half-sheet would have contained exactly one set of cards. I presume that the other half of the 264-card full sheet would have been an exact duplicate.
A bit of trivia: the cards in the last row of the 1967 Topps proof sheet--the ones marked in green--were also included in Milton Bradley's 1969 Win-A-Card game. (See my blog article about the game.) There are 11 cards in the row, and there were a total of 33 1967 Topps football cards in the game, so it's a good bet that the other 22 cards resided in two more rows of the half-sheet.
The following miscut cards give us more clues as to what the half-sheet looked like. First, Steve Liskey, from the TheCowboysGuide.com, sent me this picture of a miscut Steve Tensi card. The sliver on the right is part of Jack Kemp's 1967 Topps card. Neither of these cards appear in the partial sheet above, so they must be part of one of the other eight rows on the half-sheet.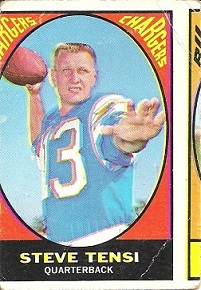 Here are the two cards together:
And this is how the two cards are numbered:
Finally, here are two miscut cards that I found at the National Sports Collectors Conference: a Johnny Robinson card showing part of Wahoo McDaniel's card, and a Jim Hunt card showing part of Johnny Robinson's card.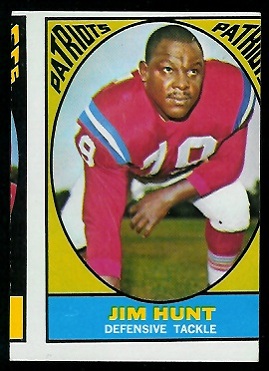 This is how the three cards looked together on the sheet:
And this is how they were numbered:
If you find other miscut cards that could help reconstruct the sheet, please send me scans of them and I'll add them here.
For general information on uncut sheets of vintage football cards, see my blog article, U is for Uncut Sheets. Also see my other virtual uncut sheets, listed in the left column of this page.