1977 Topps Football Cards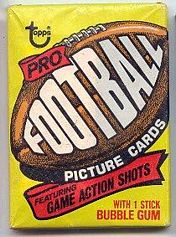 There are 528 cards in the 1977 Topps football card set. Topps also printed and released a Spanish language version of the 1977 set in Mexico. Thanks to Roy Walton for providing most of the images for this set.
Rookie cards of Pro Football Hall of Famers in the 1977 Topps set: Steve Largent, Lee Roy Selmon, Mike Haynes, Mike Webster, Dave Casper, Harry Carson. Rookie cards of Heisman Trophy winners in the 1977 Topps set: John Cappelletti, Archie Griffin, Archie Griffin.
Image
Set
#
Card Title/Players
Pro Team
Position
College
Honors
Notes
Grades available at Nearmint Sports Cards
1977 Topps
1
Passing Leaders
James Harris
Los Angeles Rams
quarterback
Grambling
Ken Stabler
Oakland Raiders
quarterback
Alabama
Pro Football Hall of Fame 2016
1977 Topps
2
Receiving Leaders
MacArthur Lane
Kansas City Chiefs
running back
Utah State
Drew Pearson
Dallas Cowboys
wide receiver
Tulsa
Cowboys Ring of Honor 2011
1977 Topps
3
Rushing Leaders
Walter Payton
Chicago Bears
running back
Jackson State
Pro Football Hall of Fame 1993, College Hall of Fame 1996
O.J. Simpson
Buffalo Bills
running back
USC, City College of San Francisco
Heisman Trophy 1968, Bills Wall of Fame 1980, College Hall of Fame 1983, Pro Football Hall of Fame 1985
1977 Topps
4
Scoring Leaders
Toni Linhart
Baltimore Colts
kicker
Austria Technical
Mark Moseley
Washington Redskins
kicker
Stephen F. Austin, Texas A and M
Redskins Ring of Fame
1977 Topps
5
Interception Leaders
Monte Jackson
Los Angeles Rams
defensive back
San Diego State
Ken Riley
Cincinnati Bengals
defensive back
Florida A and M
1977 Topps
6
Punting Leaders
Marv Bateman
Buffalo Bills
punter
Utah
John James
Atlanta Falcons
punter
Florida
1977 Topps
7
Mike Phipps
Cleveland Browns
quarterback
Purdue
College Hall of Fame 2006
1977 Topps
8
Rick Volk
New York Giants
defensive back
Michigan
1977 Topps
9
Steve Furness
Pittsburgh Steelers
defensive tackle, defensive end
Rhode Island
1977 Topps
10
Isaac Curtis
Cincinnati Bengals
wide receiver
California, San Diego State
1977 Topps
11
Nate Wright
Minnesota Vikings
defensive back
San Diego State
1977 Topps
12
Jean Fugett
Washington Redskins
tight end
Amherst
1977 Topps
13
Ken Mendenhall
Baltimore Colts
center
Oklahoma
1977 Topps
14
Sam Adams
New England Patriots
guard, tackle
Prairie View
Adams's son, also named Sam, played for the Seattle Seahawks, Baltimore Ravens, Oakland Raiders, Buffalo Bills, Cincinnati Bengals, and Denver Broncos.
1977 Topps
15
Charlie Waters
Dallas Cowboys
defensive back
Clemson
1977 Topps
16
Bill Stanfill
Miami Dolphins
defensive end
Georgia
Outland Trophy 1968, College Hall of Fame 1998, Dolphins Honor Roll 2010
1977 Topps
17
John Holland
Buffalo Bills
wide receiver
Tennessee State
Rookie card
1977 Topps
18
Pat Haden
Los Angeles Rams
quarterback
USC
Rookie card
1977 Topps
19
Bob Young
St. Louis Cardinals
defensive tackle, defensive end
Howard Payne, Texas
1977 Topps
20
Wally Chambers
Chicago Bears
defensive tackle, defensive end
Eastern Kentucky
1977 Topps
21
Lawrence Gaines
Detroit Lions
running back
Wyoming
Rookie card
1977 Topps
22
Larry McCarren
Green Bay Packers
center
Illinois
Packers Hall of Fame 1992
1977 Topps
23
Horst Muhlmann
Philadelphia Eagles
kicker
1977 Topps
24
Phil Villapiano
Oakland Raiders
linebacker
Bowling Green
1977 Topps
25
Greg Pruitt
Cleveland Browns
running back
Oklahoma
College Hall of Fame 1999

Show all eBay listings for 1977 Topps football cards.