1973 Alabama Playing Cards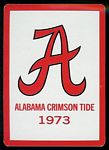 The deck of 1973 Alabama playing cards contains pictures of 51 players and Coach Bear Bryant. The jokers picture Alabama's Denny Stadium and Memorial Coliseum. At least eight players in the deck later played in the NFL, and four played in the CFL. (One player, Mike Raines, played in both leagues.) Woodrow Lowe, who played eleven seasons for the San Diego Chargers, is a member of the College Football Hall of Fame. Coach Bryant is also a member of the College Hall of Fame.
Going into the Sugar Bowl, the 1973 Alabama team was undefeated and ranked #1 in the country. Alabama lost the Sugar Bowl 24-23 to #3 Notre Dame, and Notre Dame took the AP national championship.
To see a large picture of any card (or stamp, sticker, etc.) in the Gallery, click on the small picture or the title. To estimate a card's value, click the Recent Sales link in the eBay Searches column and look for cards in the same condition as yours.

Search Nearmint's Vintage Football Cards for 1973 Alabama Playing Cards.

Show all eBay listings for
1973 Alabama Playing Cards
.