1962 Topps Football Cards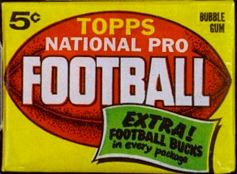 Because the cards' black borders readily show wear, the 1962 Topps football card set is a challenge to complete in high grade. There are 176 cards in the set, and they were released in a single series. The cards were printed on a 264-card sheet, so half of the cards--88 of them--were repeated on the sheet. The remaining 88 cards were thus short-printed. I believe the price guides have misidentified the short prints, however. See my 1962 Topps virtual uncut sheet for an explanation.
Many of the black-and-white inset photos on the 1962 Topps cards picture a player other than the one whose name is on the card. Topps altered the jersey number on some of the images to match the number of the player, but later gave away the deception by reusing the original images on 1969 Topps Mini-Card albums. For details, see my blog article, Recycled Images on 1969 Topps Mini-Card Albums.
As indicated on the wrapper, 1962 Topps Bucks were inserts in packs of 1962 Topps cards. One variation of the display box for the cards also included an advertisement for the Bucks. You can see examples of 1962 Topps display boxes on the Legendary Auctions web site.
Rookie cards of Pro Football Hall of Famers in the 1962 Topps set: Fran Tarkenton, Mike Ditka. Rookie cards of Heisman Trophy winners in the 1962 Topps set: Ernie Davis.
Image
Set
#
Card Title/Players
Pro Team
Position
College
Honors
Notes
Grades available at Nearmint Sports Cards
1962 Topps
1
John Unitas
Baltimore Colts
quarterback
Louisville
Pro Football Hall of Fame 1979
Short print
PSA 7, PSA 5.5, PSA 5
1962 Topps
2
Lenny Moore
Baltimore Colts
halfback
Penn State
Pro Football Hall of Fame 1975
1962 Topps
3
Alex Hawkins
Baltimore Colts
halfback
South Carolina
Rookie card, short print
1962 Topps
4
Joe Perry
Baltimore Colts
fullback
Compton Community College
Pro Football Hall of Fame 1969, 49ers Hall of Fame 2009
Short print
1962 Topps
5
Raymond Berry
Baltimore Colts
end
SMU
Pro Football Hall of Fame 1973
1962 Topps
6
Steve Myhra
Baltimore Colts
guard, kicker
North Dakota
1962 Topps
7
Tom Gilburg
Baltimore Colts
guard, punter
Syracuse
Short print
1962 Topps
8
Gino Marchetti
Baltimore Colts
defensive end
San Francisco
Pro Football Hall of Fame 1972
1962 Topps
9
Bill Pellington
Baltimore Colts
linebacker
Rutgers
Short print
PSA 6
1962 Topps
10
Andy Nelson
Baltimore Colts
defensive back
Memphis
exmt
1962 Topps
11
Wendell Harris
Baltimore Colts
running back
LSU
Short print
1962 Topps
12
Baltimore Colts Team
Baltimore Colts
Short print
PSA 7
1962 Topps
13
Bill Wade
Chicago Bears
quarterback
Vanderbilt
Short print
1962 Topps
14
Willie Galimore
Chicago Bears
halfback
Florida A and M
College Hall of Fame 1999
PSA 6
1962 Topps
15
Johnny Morris
Chicago Bears
halfback
UC Santa Barbara
1962 Topps
16
Rick Casares
Chicago Bears
fullback
Florida
exmt
1962 Topps
17
Mike Ditka
Chicago Bears
tight end
Pittsburgh
Pro Football Hall of Fame 1988
Rookie card, short print
PSA 5, PSA 3.5
1962 Topps
18
Stan Jones
Chicago Bears
guard
Maryland
Pro Football Hall of Fame 1991, College Hall of Fame 2000
1962 Topps
19
Roger LeClerc
Chicago Bears
linebacker, kicker
Trinity
Rookie card, short print
exmt
1962 Topps
20
Angelo Coia
Chicago Bears
end
Citadel, USC
Rookie card

Coia played from 1960 to 1966 for the Chicago Bears, Washington Redskins, and Atlanta Falcons.
1962 Topps
21
Doug Atkins
Chicago Bears
defensive end
Tennessee
Pro Football Hall of Fame 1982, College Hall of Fame 1985, Saints Hall of Fame 1995
1962 Topps
22
Bill George
Chicago Bears
linebacker, guard
Wake Forest
Pro Football Hall of Fame 1974
Short print
1962 Topps
23
Richie Petitbon
Chicago Bears
defensive back
Tulane
Rookie card

Petitbon had a 101-yard interception return in 1962, longest in the NFL.
1962 Topps
24
Ron Bull
Chicago Bears
running back
Baylor
Rookie card, short print

Bull was the UPI NFL Rookie of the Year in 1962.
1962 Topps
25
Chicago Bears Team
Chicago Bears
1962 Topps
26
Howard Cassady
Cleveland Browns
halfback
Ohio State
Heisman Trophy 1955, College Hall of Fame 1979
Cassady's son, Craig, played for the New Orleans Saints in 1977.
PSA 7
1962 Topps
27
Ray Renfro
Cleveland Browns
halfback
North Texas
1962 Topps
28
Jim Brown
Cleveland Browns
fullback
Syracuse
Pro Football Hall of Fame 1971, College Hall of Fame 1995, Browns Ring of Honor 2010
Short print

The inset photo on this card also appeared on a "1960 Football Highlights" card in the 1961 Topps set.
BVG 7.5, PSA 5
1962 Topps
29
Rich Kreitling
Cleveland Browns
end
Illinois
Rookie card
exmt
1962 Topps
30
Jim Ray Smith
Cleveland Browns
guard
Baylor
College Hall of Fame 1987
exmt
1962 Topps
31
John Morrow
Cleveland Browns
center
Michigan
Short print
1962 Topps
32
Lou Groza
Cleveland Browns
tackle, kicker
Ohio State
Pro Football Hall of Fame 1974, Browns Ring of Honor 2010
1962 Topps
33
Bob Gain
Cleveland Browns
defensive tackle
Kentucky
Outland Trophy 1950, College Hall of Fame 1980
1962 Topps
34
Bernie Parrish
Cleveland Browns
defensive back
Florida
1962 Topps
35
Jim Shofner
Cleveland Browns
defensive back
TCU
Short print
1962 Topps
36
Ernie Davis
Cleveland Browns
halfback
Syracuse
Heisman Trophy 1961, College Hall of Fame 1979
Rookie card, short print

Though Davis died of leukemia before he could play for the Browns, the team retired his number, 45. See the Gallery's retired numbers page for the retired numbers of all of the NFL teams.
1962 Topps
37
Cleveland Browns Team
Cleveland Browns
Short print

The Cleveland Browns team cards in the 1959-1963 Topps sets all picture the 1958 Browns team.
1962 Topps
38
Eddie LeBaron
Dallas Cowboys
quarterback
Pacific
Redskins Ring of Fame, College Hall of Fame 1980
1962 Topps
39
Don Meredith
Dallas Cowboys
quarterback
SMU
Cowboys Ring of Honor 1976, College Hall of Fame 1982
Short print
1962 Topps
40
J.W. Lockett
Dallas Cowboys
fullback
Central State
Short print
1962 Topps
41
Don Perkins
Dallas Cowboys
halfback
New Mexico
Cowboys Ring of Honor 1976
Rookie card

Topps reused the image in the inset photo of this card on the cover of the Minnesota Vikings 1969 Topps Mini-Card Album.
1962 Topps
42
Bill Howton
Dallas Cowboys
end
Rice
Packers Hall of Fame 1974
Short print
1962 Topps
43
Dick Bielski
Dallas Cowboys
end, fullback
Maryland
PSA 7
1962 Topps
44
Mike Connelly
Dallas Cowboys
center
Utah State, Michigan State
Rookie card
1962 Topps
45
Jerry Tubbs
Dallas Cowboys
linebacker
Oklahoma
College Hall of Fame 1996
1962 Topps
46
Don Bishop
Dallas Cowboys
defensive back
Los Angeles City
Rookie card, short print
1962 Topps
47
Dick Moegle
Dallas Cowboys
defensive back
Rice
Short print

After football, Moegle changed his surname to "Maegle," so that its spelling more closely matched its pronunciation.
1962 Topps
48
Bobby Plummer
Dallas Cowboys
tackle
TCU
Short print
1962 Topps
49
Dallas Cowboys Team
Dallas Cowboys
1962 Topps
50
Milt Plum
Detroit Lions
quarterback
Penn State
Short print
nm

Buying? Search nearmintcards.com for 1962 Topps.

Show all eBay listings for 1962 Topps football cards.