1960 Topps Football Cards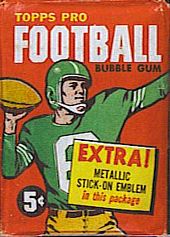 The 1960 Topps set contains 132 cards of NFL players and teams. The Dallas Cowboys joined the NFL in 1960, so this was the first set to include cards of the Cowboys. The full set fit exactly twice on a full 264-card uncut sheet, with no short prints or double prints. To see what an uncut half-sheet looked like, see my 1960 Topps virtual uncut sheet page.
1960 was the first year since 1955 that Topps had competition in the football card market. The American Football League began play in 1960, and Fleer printed the first set of AFL football cards. The competition spurred a bit of innovation, apparently, because 1960 Topps and 1960 Fleer football card packs were the first to include inserts. 1960 Topps packs included metallic stickers representing the thirteen NFL teams and twenty colleges.
The 1960 Topps set contains a large number of errors. Most notable is Jim Taylor's card, which pictures the wrong Jim Taylor. (To see that card and other cards that picture the wrong player, see my Mistaken Identities page.) Also, four cards in the set have reversed images. I have identified the error cards in the "Notes" column below.
You can see pictures of a 1960 Topps 5-cent display box on the Legendary Auctions web site.
Rookie cards of Pro Football Hall of Famers in the 1960 Topps set: Forrest Gregg.
Image
Set
#
Card Title/Players
Pro Team
Position
College
Honors
Notes
Grades available at Nearmint Sports Cards
1960 Topps
1
John Unitas
Baltimore Colts
quarterback
Louisville
Pro Football Hall of Fame 1979
1960 Topps
2
Alan Ameche
Baltimore Colts
fullback
Wisconsin
Heisman Trophy 1954, College Hall of Fame 1975
vg-ex
1960 Topps
3
Lenny Moore
Baltimore Colts
halfback
Penn State
Pro Football Hall of Fame 1975
1960 Topps
4
Raymond Berry
Baltimore Colts
end
SMU
Pro Football Hall of Fame 1973
1960 Topps
5
Jim Parker
Baltimore Colts
guard, tackle
Ohio State
Outland Trophy 1956, Pro Football Hall of Fame 1973, College Hall of Fame 1974
Parker placed eighth in voting for the 1956 Heisman Trophy. See my page of football cards of Heisman candidates.
PSA 9, exmt
1960 Topps
6
George Preas
Baltimore Colts
tackle
VPI
Rookie card

Preas played 11 seasons in the NFL, all for the Colts.
PSA 8, ex
1960 Topps
7
Art Spinney
Baltimore Colts
guard
Boston College
ex
1960 Topps
8
Bill Pellington
Baltimore Colts
linebacker
Rutgers
Rookie card

Pellington played 12 seasons in the NFL, all for the Colts.
nm oc
1960 Topps
9
John Sample
Baltimore Colts
defensive back
Maryland Eastern Shore
Rookie card
exmt
1960 Topps
10
Gene Lipscomb
Baltimore Colts
defensive tackle
Steelers Legends Team
nm
1960 Topps
11
Baltimore Colts Team
Baltimore Colts
1960 Topps
12
Ed Brown
Chicago Bears
quarterback
San Francisco
exmt
1960 Topps
13
Rick Casares
Chicago Bears
fullback
Florida
1960 Topps
14
Willie Galimore
Chicago Bears
halfback
Florida A and M
College Hall of Fame 1999
PSA 6
1960 Topps
15
Jim Dooley
Chicago Bears
end
Miami Florida
nm
1960 Topps
16
Harlon Hill
Chicago Bears
end
North Alabama
1960 Topps
17
Stan Jones
Chicago Bears
guard
Maryland
Pro Football Hall of Fame 1991, College Hall of Fame 2000
exmt
1960 Topps
18
Bill George
Chicago Bears
linebacker, guard
Wake Forest
Pro Football Hall of Fame 1974
nm
1960 Topps
19
Erich Barnes
Chicago Bears
defensive back
Purdue
Rookie card
nm
1960 Topps
20
Doug Atkins
Chicago Bears
defensive end
Tennessee
Pro Football Hall of Fame 1982, College Hall of Fame 1985, Saints Hall of Fame 1995
Error card

The image of Atkins is reversed on this card. See the Gallery's page of football cards with reversed images.
PSA 8, nm
1960 Topps
21
Chicago Bears Team
Chicago Bears
nm
1960 Topps
22
Milt Plum
Cleveland Browns
quarterback
Penn State
1960 Topps
23
Jim Brown
Cleveland Browns
fullback
Syracuse
Pro Football Hall of Fame 1971, College Hall of Fame 1995, Browns Ring of Honor 2010
1960 Topps
24
Sam Baker
Cleveland Browns
fullback, kicker
Oregon State
1960 Topps
25
Bobby Mitchell
Cleveland Browns
halfback
Illinois
Redskins Ring of Fame, Pro Football Hall of Fame 1983, Browns Ring of Honor 2010
Mitchell was the 1958 NFL Rookie of the Year.
PSA 6.5
1960 Topps
26
Ray Renfro
Cleveland Browns
halfback
North Texas
ex
1960 Topps
27
Bill Howton
Cleveland Browns
end
Rice
Packers Hall of Fame 1974
1960 Topps
28
Jim Ray Smith
Cleveland Browns
guard
Baylor
College Hall of Fame 1987
1960 Topps
29
Jim Shofner
Cleveland Browns
defensive back
TCU
1960 Topps
30
Bob Gain
Cleveland Browns
defensive tackle
Kentucky
Outland Trophy 1950, College Hall of Fame 1980
PSA 8, ex
1960 Topps
31
Cleveland Browns Team
Cleveland Browns
The Cleveland Browns team cards in the 1959-1963 Topps sets all picture the 1958 Browns team.
1960 Topps
32
Don Heinrich
Dallas Cowboys
quarterback, coach
Washington
College Hall of Fame 1987
1960 Topps
33
Ed Modzelewski
Dallas Cowboys
fullback
Maryland
ex
1960 Topps
34
Fred Cone
Dallas Cowboys
fullback
Clemson
Packers Hall of Fame 1974
exmt
1960 Topps
35
L.G. Dupre
Dallas Cowboys
halfback
Baylor
1960 Topps
36
Dick Bielski
Dallas Cowboys
end, fullback
Maryland
exmt
1960 Topps
37
Charlie Ane
Dallas Cowboys
center, tackle
USC
Error card

Ane's first name is misspelled "Charley."
exmt
1960 Topps
38
Jerry Tubbs
Dallas Cowboys
linebacker
Oklahoma
College Hall of Fame 1996
The University of Oklahoma was undefeated while Tubbs played there. The team won NCAA National Championships in 1955 and 1956.
1960 Topps
39
Doyle Nix
Dallas Cowboys
defensive back
SMU
exmt+
1960 Topps
40
Ray Krouse
Dallas Cowboys
defensive tackle
Maryland
nm
1960 Topps
41
Earl Morrall
Detroit Lions
quarterback
Michigan State
1960 Topps
42
Howard Cassady
Detroit Lions
halfback
Ohio State
Heisman Trophy 1955, College Hall of Fame 1979
exmt
1960 Topps
43
Dave Middleton
Detroit Lions
end
Auburn
SGC 88, nm
1960 Topps
44
Jim Gibbons
Detroit Lions
end
Iowa
Rookie card
1960 Topps
45
Darris McCord
Detroit Lions
defensive end
Tennessee
Rookie card

McCord played 13 seasons in the NFL, all with the Lions.
ex
1960 Topps
46
Joe Schmidt
Detroit Lions
linebacker
Pittsburgh
Pro Football Hall of Fame 1973, College Hall of Fame 2000
exmt
1960 Topps
47
Terry Barr
Detroit Lions
defensive back
Michigan
1960 Topps
48
Yale Lary
Detroit Lions
defensive back
Texas A and M
Pro Football Hall of Fame 1979
PSA 8
1960 Topps
49
Gil Mains
Detroit Lions
defensive tackle
Murray State
Rookie card
PSA 8, exmt
1960 Topps
50
Detroit Lions Team
Detroit Lions
nm

Buying? Search nearmintcards.com for 1960 Topps.

Show all eBay listings for 1960 Topps football cards.