1954 Bowman Football Cards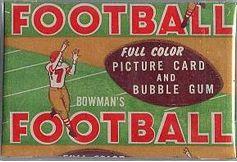 There are 128 cards in the 1954 Bowman football card set. The cards picture players from the 12 NFL teams of the day. The set was printed on four sheets, each containing 32 different cards. Cards 65-96 are scarcer than the others, so apparently the sheet that contained them was printed in relatively small numbers. See my virtual uncut sheets of 1954 Bowman cards for details.
The price guides list two variations of the Tom Finnan card, error and corrected, but both variations are actually in error. For an overview of the 1948-1955 Bowman sets, see my blog article, B is for Bowman. See the Legendary Auctions web site for pictures of 1-cent and 5-cent display boxes.
Rookie cards of Pro Football Hall of Famers in the 1954 Bowman set: George Blanda, Doug Atkins. Rookie cards of Heisman Trophy winners in the 1954 Bowman set: John Lattner.
Image
Set
#
Card Title/Players
Pro Team
Position
College
Honors
Notes
Grades available at Nearmint Sports Cards
1954 Bowman
1
Ray Mathews
Pittsburgh Steelers
end
Clemson
Steelers Legends Team
exmt, PSA 7
1954 Bowman
2
John Huzvar
Baltimore Colts
fullback
Pittsburgh, North Carolina State
nm
1954 Bowman
3
Jack Scarbath
Washington Redskins
quarterback
Maryland
College Hall of Fame 1983
Scarbath finished second in voting for the Heisman Trophy in 1952, behind Billy Vessels.
PSA 9
1954 Bowman
4
Doug Atkins
Cleveland Browns
defensive end
Tennessee
Pro Football Hall of Fame 1982, College Hall of Fame 1985, Saints Hall of Fame 1995
Rookie card
PSA 8 oc, vg
1954 Bowman
5
Bill Stits
Detroit Lions
defensive back
UCLA
Rookie card

1954 was Stits's rookie season. He had 6 interceptions and made the Pro Bowl.
1954 Bowman
6
Joe Perry
San Francisco 49ers
fullback
Compton Community College
Pro Football Hall of Fame 1969, 49ers Hall of Fame 2009
1954 Bowman
7
Kyle Rote
New York Giants
end
SMU
College Hall of Fame 1964
nm
1954 Bowman
8
Norm Van Brocklin
Los Angeles Rams
quarterback, coach
Oregon
College Hall of Fame 1966, Pro Football Hall of Fame 1971, Eagles Honor Roll 1987
1954 Bowman
9
Pete Pihos
Philadelphia Eagles
end
Indiana
College Hall of Fame 1966, Pro Football Hall of Fame 1970, Eagles Honor Roll 1987
1954 Bowman
10
Babe Parilli
Green Bay Packers
quarterback
Kentucky
College Hall of Fame 1982, Patriots Hall of Fame 1993
PSA 7
1954 Bowman
11
Zeke Bratkowski
Chicago Bears
quarterback
Georgia
Packers Hall of Fame 1989
Rookie card
PSA 7, exmt
1954 Bowman
12
Ollie Matson
Chicago Cardinals
fullback, defensive back
San Francisco
Pro Football Hall of Fame 1972, College Hall of Fame 1976, Eagles Honor Roll 1987, Cardinals Ring of Honor 2006
Matson placed ninth in voting for the 1951 Heisman Trophy. See my page of football cards of Heisman candidates.
1954 Bowman
13
Pat Brady
Pittsburgh Steelers
quarterback, punter
Nevada, Bradley
Steelers Legends Team
PSA 9
1954 Bowman
14
Fred Enke
Baltimore Colts
quarterback
Arizona
ex
1954 Bowman
15
Harry Ulinski
Washington Redskins
center
Kentucky
Ulinski was inducted into the Beaver County (Pennsylvania) Sports Hall of Fame in 1993.
1954 Bowman
16
Bobby Garrett
Cleveland Browns
quarterback
Stanford
Rookie card

Garrett placed fifth in voting for the 1953 Heisman Trophy. See my page of football cards of Heisman candidates.
1954 Bowman
17
Bill Bowman
Detroit Lions
fullback
William and Mary
1954 Bowman
18
Leo Rucka
San Francisco 49ers
center
Rice
The 49ers drafted Rucka in 1954, but he served two years in the Air Force before joining the team. He played in five games for the 49ers in 1956.
nm+
1954 Bowman
19
John Cannady
New York Giants
center
Indiana
1954 Bowman
20
Tom Fears
Los Angeles Rams
end
UCLA, Santa Clara
Pro Football Hall of Fame 1970, College Hall of Fame 1976
PSA 9, PSA 8, PSA 7, nm
1954 Bowman
21
Norm Willey
Philadelphia Eagles
defensive end
Marshall
Rookie card
1954 Bowman
22
Floyd Reid
Green Bay Packers
halfback
Georgia
nm
1954 Bowman
23
George Blanda
Chicago Bears
quarterback, kicker
Kentucky
Pro Football Hall of Fame 1981
Rookie card
PSA 6
1954 Bowman
24
Don Dohoney
Chicago Cardinals
end
Michigan State
Rookie card

Dohoney was an Academic All-American at Michigan State in 1953.
1954 Bowman
25
John Schweder
Pittsburgh Steelers
guard
Pennsylvania
nm

Buying? Search nearmintcards.com for 1954 Bowman.

Show all eBay listings for 1954 Bowman football cards.