Cards in Three Leagues
In the 1950s and 1960s, the National Football League, Canadian Football League, and American Football League competed for players, and players often jumped from one league to another. A handful of players appeared on cards in all three leagues. Here they are:
Tobin Rote
Tobin Rote played from 1950 to 1959 for the Green Bay Packers and Detroit Lions, from 1960 to 1962 for the Toronto Argonauts, and from 1963 to 1965 for the AFL's San Diego Chargers and Denver Broncos. Rote was elected to the Green Bay Packers Hall of Fame in 1974.
Rote appeared on multiple cards in each of the three leagues. He is pictured here are on his 1956 Topps, 1961 Topps CFL, and 1964 Topps cards. You can see all of Rote's cards on his page in the Gallery.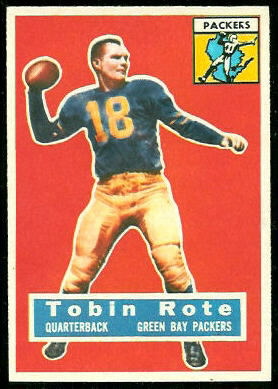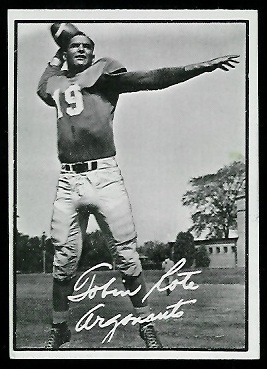 Frank Tripucka
Frank Tripucka played from 1949 to 1952 for the NFL's Detroit Lions, Chicago Cardinals, and Dallas Texans. He then moved to Canada and played from 1953 to 1959 for the Saskatchewan Roughriders and Ottawa Rough Riders. In 1960 he jumped to the AFL's Denver Broncos, and he stayed with the Broncos until partway through the 1963 season. He finished the 1963 season back in Saskatchewan. Tripucka was elected to the Denver Broncos Ring of Fame in 1986.
The cards shown here are Tripucka's 1950 Bowman card, his 1958 Topps CFL card, and his 1962 Fleer card. He also appeared on a 1948 Leaf card while still at Notre Dame, and at least seven other NFL and AFL cards. You can see all of them on Tripucka's page in the Gallery.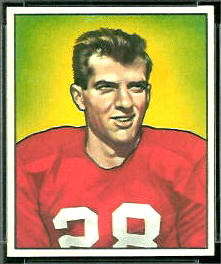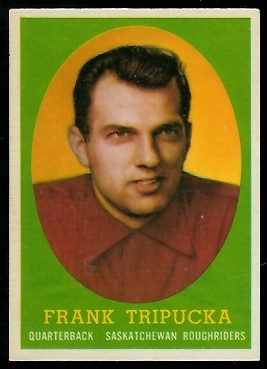 Al Dorow
Al Dorow played from 1954 to 1957 for the Washington Redskins and Philadelphia Eagles, then he played for three CFL teams--Saskatechewan, Vancouver, and Toronto--in two seasons. In 1960 and 1961 he played for the AFL's New York Titans, and he finished his career in 1962 with the Buffalo Bills.
Dorow is pictured here on his 1955 Bowman card, his 1959 Topps CFL card, and his 1961 Topps card. He also appeared on at least three other NFL and AFL cards.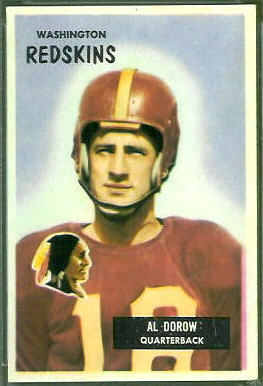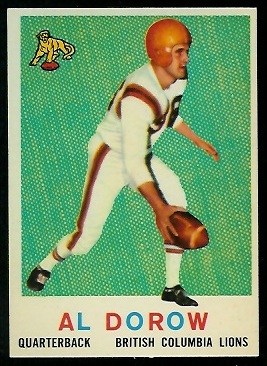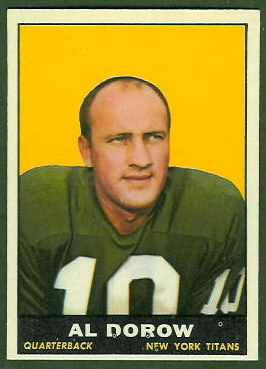 Fran Rogel
Fran Rogel played from 1950 to 1957 in the NFL, all with the Pittsburgh Steelers. He then played one season, 1958, for the CFL's Hamilton Tiger-Cats. In 1960 he apparently tried out for the AFL's New York Titans, because he appeared on a football card for the team. He did not register any stats with the Titans, however, so I presume he left the team before the season started.
The cards pictured here are Rogel's 1951 Bowman, 1958 Topps CFL, and 1960 Fleer cards. He also appeared on a 1950 Topps Felt Back card while still at Penn State, plus at least three more cards with the Steelers, also. See them all on Rogel's page in the Gallery.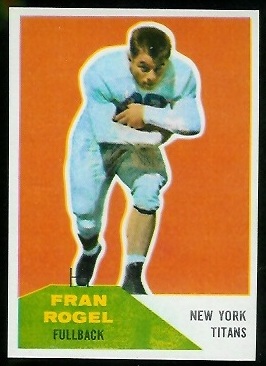 Others?
I know of one more player with cards in three leagues: Pete Liske appeared on a 1964 Topps card with the New York Jets, a 1968 O-Pee-Chee card with the Calgary Stampeders, and 1972 Topps and 1973 Topps cards with the Philadelphia Eagles. When I get Liske's O-Pee-Chee card, I will add him here. If you can think of other players who should be here, send me an email.