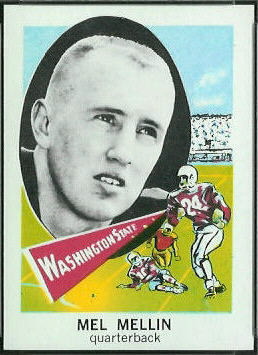 Want to use this image? See the About page.
Mel Melin - 1961 Nu-Card #178
Error card
Melin's last name is misspelled "Mellin" on this card. Melin played from 1962 to 1965 for the Canadian Football League's BC Lions. There is a nice article about him on the Washington State University web site.
Estimated value: nm $3, mint $8 explain

Buy this card at nearmintcards.com!
Grades available: PSA 9, PSA 8.