1955 Topps All-American #34: Davey O'Brien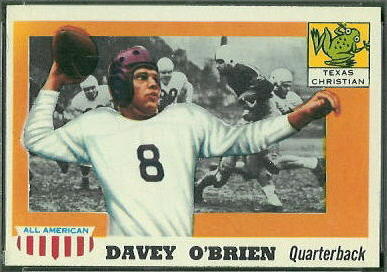 Position: quarterback
College: TCU
Hometown: Dallas, TX
Honors: Heisman Trophy, College Hall of Fame
Rookie card
O'Brien played two seasons for the Philadelphia Eagles. In 1939, his rookie year, he broke Sammy Baugh's NFL record for most yards passing in a season. According to his page on the Heisman Trophy web site, he retired to become an FBI agent.

Buy this card at nearmintcards.com!
Grades available: BVG 8.