1968 Topps Football Cards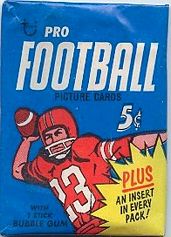 The 1968 Topps football card set contains 220 cards: 132 in the first series, and 88 cards in the second. The set contains both NFL and AFL players. The cards are numbered 1-219, with two variations of card number 219, the second series checklist. The second series checklist with green print on the back was released with the first series cards, presumably to alert kids that a second series would be available. (See my blog article, C is for Checklists.) My 1968 Topps virtual uncut sheet page shows what full sheets of first and second series cards looked like.
The cards of players from the Super Bowl II teams, the Green Bay Packers and the Oakland Raiders, are oriented horizontally and have a different background than the rest of the player cards. The backs of some second series cards are pieces to puzzles of Bart Starr and Len Dawson, the starting quarterbacks of Super Bowl I.
Each pack of 1968 Topps first series cards included an "All Star Pin-Up Picture" insert. Each pack of second series cards contained a "Football Stand-Up Plak." These "plaks" are now referred to as 1968 Topps Stand-Up cards; you can see the full set in the Gallery. You can see examples of the first and second series display boxes on the Legenday Auctions web site.
Rookie cards of Pro Football Hall of Famers in the 1968 Topps set: Bob Griese, Floyd Little.
Image
Set
#
Card Title/Players
Pro Team
Position
College
Honors
Notes
Grades available at Nearmint Sports Cards
1968 Topps
1
Bart Starr
Green Bay Packers
quarterback
Alabama
Packers Hall of Fame 1977, Pro Football Hall of Fame 1977
The backs of some second series 1968 Topps cards are part of a Bart Starr puzzle.
PSA 8, PSA 7
1968 Topps
2
Dick Bass
Los Angeles Rams
halfback
Pacific
1968 Topps
3
Grady Alderman
Minnesota Vikings
tackle
Detroit
1968 Topps
4
Obert Logan
New Orleans Saints
defensive back
Trinity
exmt
1968 Topps
5
Ernie Koy
New York Giants
running back
Texas
Rookie card
ex+
1968 Topps
6
Don Hultz
Philadelphia Eagles
defensive tackle
Southern Mississippi
Rookie card
ex+
1968 Topps
7
Earl Gros
Pittsburgh Steelers
running back
LSU
nm
1968 Topps
8
Jim Bakken
St. Louis Cardinals
kicker
Wisconsin
nm
1968 Topps
9
George Mira
San Francisco 49ers
quarterback
Miami Florida
Mira placed fifth in voting for the Heisman Trophy in 1962, and tenth in 1963. See my page of football cards of Heisman Trophy candidates.
1968 Topps
10
Carl Kammerer
Washington Redskins
defensive end
Pacific
Rookie card
nm
1968 Topps
11
Willie Frazier
San Diego Chargers
end
Arkansas A and M
nm
1968 Topps
12
Kent McCloughan
Oakland Raiders
defensive back
Nebraska
Error card

McCloughan's name is misspelled "McCloughlan" on the back of the card.
nm-mt oc
1968 Topps
13
George Sauer Jr.
New York Jets
end
Texas
Sauer's father, George Sauer Sr., played for the Green Bay Packers. See my Fathers and Sons page for more father/son pairs who appeared on vintage football cards.
1968 Topps
14
Jack Clancy
Miami Dolphins
wide receiver
Michigan
Rookie card
nm-mt oc
1968 Topps
15
Jim Tyrer
Kansas City Chiefs
tackle
Ohio State
Chiefs Hall of Fame 1977
1968 Topps
16
Bobby Maples
Houston Oilers
linebacker
Baylor
Maples's brother, Butch Maples, played for the Baltimore Colts in 1963.
nm oc
1968 Topps
17
Bo Hickey
Denver Broncos
running back
Maryland
Rookie card

Hickey coached high school football and hockey for 31 years at New Canaan High School in Connecticut. The New Canaan Patch web site has a nice article about him.
nm+
1968 Topps
18
Frank Buncom
San Diego Chargers
linebacker
USC
Chargers Hall of Fame 1976
nm
1968 Topps
19
Keith Lincoln
Buffalo Bills
fullback
Washington State
Chargers Hall of Fame 1980
1968 Topps
20
Jim Whalen
Boston Patriots
tight end
Boston College
nm mc
1968 Topps
21
Junior Coffey
Atlanta Falcons
halfback
Washington
1968 Topps
22
Billy Ray Smith
Baltimore Colts
tackle
Arkansas
1968 Topps
23
Johnny Morris
Chicago Bears
halfback
UC Santa Barbara
Morris still holds the Bears team record for career receiving yards.
1968 Topps
24
Ernie Green
Cleveland Browns
halfback
Louisville
Green co-founded EG Industries, a manufacturing company, in 1981.
ex+
1968 Topps
25
Don Meredith
Dallas Cowboys
quarterback
SMU
Cowboys Ring of Honor 1976, College Hall of Fame 1982

Buying? Search nearmintcards.com for 1968 Topps.

Show all eBay listings for 1968 Topps football cards.