1964 Topps Football Cards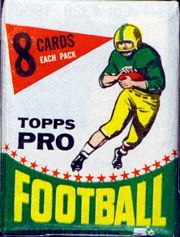 The 1964 Topps football card set is the first of four AFL-only sets that Topps produced in the mid-1960s. There were only eight AFL teams in 1964, so the set contains a large number of players per team. Because of this, a lot of players made their first appearance on a card in this set.
The set's 176 cards were printed on a 264-card full sheet, so 88 cards were repeated on the sheet. The repeated 88 cards were thus double prints, or the other 88 cards were short prints, depending on whether your glass is half-full or half-empty. The price guides chose half-empty and identified the short prints.
The set contains one notable error card: Ray Abruzzese's card actually pictures Ed Rutkowski. You can see more cards that picture the wrong player on my Mistaken Identities page.
Rookie cards of Pro Football Hall of Famers in the 1964 Topps set: Bobby Bell, Buck Buchanan.
Image
Set
#
Card Title/Players
Pro Team
Position
College
Honors
Notes
Grades available at Nearmint Sports Cards
1964 Topps
1
Tommy Addison
Boston Patriots
linebacker
South Carolina
Short print

Addison was elected president of the AFL Players Association in 1964.
1964 Topps
2
Houston Antwine
Boston Patriots
defensive tackle, defensive end
Southern Illinois
Rookie card

Antwine played from 1961 to 1971 for the Boston Patriots, and in 1972 for the Philadelphia Eagles.
1964 Topps
3
Nick Buoniconti
Boston Patriots
linebacker
Notre Dame
Dolphins Honor Roll 1991, Patriots Hall of Fame 1992, Pro Football Hall of Fame 2001
1964 Topps
4
Ron Burton
Boston Patriots
halfback
Northwestern
College Hall of Fame 1990
Short print
1964 Topps
5
Gino Cappelletti
Boston Patriots
end
Minnesota
Patriots Hall of Fame 1992
Error card

Name misspelled Cappalletti.
1964 Topps
6
Jim Colclough
Boston Patriots
end
Boston College
Short print
nm
1964 Topps
7
Bob Dee
Boston Patriots
defensive end
Holy Cross
Patriots Hall of Fame 1993
Short print
1964 Topps
8
Larry Eisenhauer
Boston Patriots
defensive end
Boston College
nm
1964 Topps
9
Dick Felt
Boston Patriots
defensive back
Brigham Young
Short print

Felt was inducted into the BYU Athletic Hall of Fame as a player in 1977. After retiring from the pros, he coached BYU's defensive backs for 26 seasons.
1964 Topps
10
Larry Garron
Boston Patriots
fullback
Western Illinois
PSA 8, nm
1964 Topps
11
Art Graham
Boston Patriots
end
Boston College
Rookie card
nm
1964 Topps
12
Ron Hall
Boston Patriots
defensive back
Missouri Valley
Rookie card
nm
1964 Topps
13
Charles Long
Boston Patriots
tackle
Tennessee-Chatanooga
1964 Topps
14
Don McKinnon
Boston Patriots
linebacker
Dartmouth
Rookie card

McKinnon had small parts in two Wes Anderson movies, The Royal Tenenbaums and The Life Aquatic with Steve Zissou.
nm
1964 Topps
15
Don Oakes
Boston Patriots
tackle
Virginia Tech
Rookie card, short print
1964 Topps
16
Ross O'Hanley
Boston Patriots
defensive back
Boston College
Short print
1964 Topps
17
Babe Parilli
Boston Patriots
quarterback
Kentucky
College Hall of Fame 1982, Patriots Hall of Fame 1993
Short print
1964 Topps
18
Jesse Richardson
Boston Patriots
defensive tackle
Alabama
Short print
1964 Topps
19
Jack Rudolph
Boston Patriots
linebacker
Georgia Tech
Rookie card, short print
PSA 6
1964 Topps
20
Don Webb
Boston Patriots
defensive back
Iowa State
Rookie card

Webb played 11 seasons in the AFL and NFL, all with the Patriots.
1964 Topps
21
Boston Patriots Team
Boston Patriots
SGC 88
1964 Topps
22
Ray Abruzzese
Buffalo Bills
defensive back
Alabama
Error card

The player pictured on this card is Ed Rutkowski, not Ray Abruzzese. See my Mistaken Identities page for other football cards that picture the wrong player.
nm
1964 Topps
23
Stew Barber
Buffalo Bills
linebacker
Penn State
Rookie card
1964 Topps
24
Dave Behrman
Buffalo Bills
center
Michigan State
Rookie card
1964 Topps
25
Al Bemiller
Buffalo Bills
center
Syracuse
Rookie card

Buying? Search nearmintcards.com for 1964 Topps.

Show all eBay listings for 1964 Topps football cards.