Not Like the Others
Here are few cards that differ slightly from their peers. They aren't exactly error cards, but I assume that the differences were unintentional.
1957 Topps Don Paul
Don Paul is the only Cleveland Brown whose 1957 Topps card has an orange background. The rest of the Browns in the 1957 Topps set have a yellow background.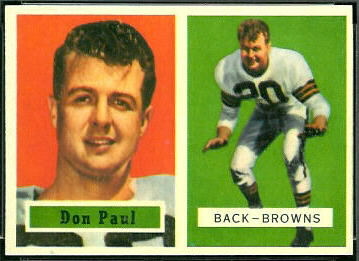 1960 7-Eleven Dallas Texans Ray Collins
The Ray Collins card in the 1960 7-Eleven Texans set is the only one that does not have "DALLAS TEXANS" printed on the front.
1967 Topps Larry Grantham
Larry Grantham's 1967 Topps card has a green frame around his picture; the rest of the Jets have blue frames.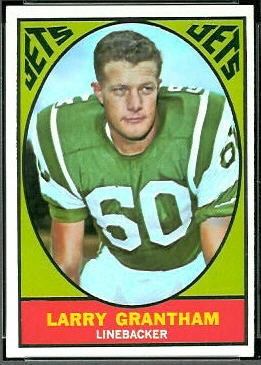 1968 Topps Bill Glass
The label on Bill Glass's 1968 Topps card has a reddish background. This area is orange on the rest of the Browns cards in the 1968 Topps set.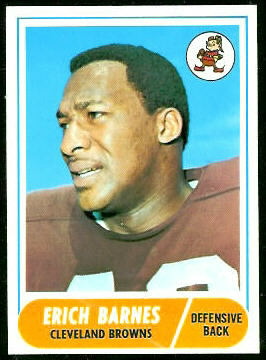 1970 Topps Super O.J. Simpson
Finally, O.J. Simpson's 1970 Topps Super card is the only card in the set with a yellow background. The rest of the 1970 Topps Super cards have blue backgrounds.