1959 Topps #141: Larry Morris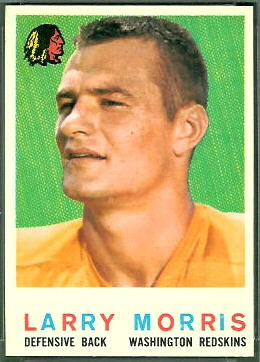 Team: Washington Redskins
Position: linebacker
College: Georgia Tech
Hometown: Decatur, GA
Honors: College Hall of Fame
Though this card shows him with the Redskins, Morris played for the Bears in 1959. The Rams traded him to the Redskins for Gene Brito in March of 1959, then the Redskins traded him to the Bears for draft picks.

Buy this card at nearmintcards.com!
Grades available: PSA 8, nm+.