1958 Topps #115: Detroit Lions Team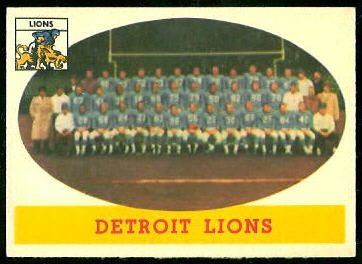 This card pictures the 1957 Detroit Lions team. Click here to see a large, black-and-white copy of this image. This was the last Lions team to win the NFL title; they beat the Browns 59-14 in the championship game.
Move your cursor over the card to see the players' names.
Player
#
Pro Team
College
Honors

Charlie

Ane

50

Detroit Lions

USC

Terry

Barr

41

Detroit Lions

Michigan

Stan

Campbell

67

Detroit Lions

Iowa State

Howard

Cassady

40

Detroit Lions

Ohio State

Heisman Trophy, College Hall of Fame

Jack

Christiansen

24

Detroit Lions

Colorado State

Pro Football Hall of Fame

John

Cochran

asst coach

Detroit Lions

Wake Forest

Packers Hall of Fame

Lou

Creekmur

76

Detroit Lions

William and Mary

Pro Football Hall of Fame

Gene

Cronin

68

Detroit Lions

Pacific

Jim

David

25

Detroit Lions

Colorado State

Dorne

Dibble

87

Detroit Lions

Michigan State

Jim

Doran

83

Detroit Lions

Iowa State

,

Buena Vista

Bud

Erickson

publicity director

Detroit Lions

Duke

,

Michigan State

Aldo

Forte

asst coach

Detroit Lions

Montana

Frank

Gatski

52

Detroit Lions

Marshall

Pro Football Hall of Fame, Browns Ring of Honor

Gene

Gedman

26

Detroit Lions

Indiana

John

Gordy

75

Detroit Lions

Tennessee

Leon

Hart

82

Detroit Lions

Notre Dame

Heisman Trophy, College Hall of Fame

John Henry

Johnson

35

Detroit Lions

Arizona State

,

St. Mary's

Pro Football Hall of Fame, 49ers Hall of Fame, Steelers Legends Team

Steve

Junker

88

Detroit Lions

Xavier

Carl

Karilivacz

21

Detroit Lions

Syracuse

Millard

Kelley

trainer

Detroit Lions

Nick

Kerbawy

general mgr

Detroit Lions

Ray

Krouse

70

Detroit Lions

Maryland

Yale

Lary

28

Detroit Lions

Texas A and M

Pro Football Hall of Fame

Bobby

Layne

22

Detroit Lions

Texas

Pro Football Hall of Fame, College Hall of Fame, Steelers Legends Team

Bob

Long

86

Detroit Lions

UCLA

Gary

Lowe

43

Detroit Lions

Michigan State

Roy

Macklem

equip mgr

Detroit Lions

Gil

Mains

72

Detroit Lions

Murray State

Jim

Martin

47

Detroit Lions

Notre Dame

College Hall of Fame

Darris

McCord

78

Detroit Lions

Tennessee

Dave

Middleton

84

Detroit Lions

Auburn

Bob

Miller

74

Detroit Lions

Virginia

Robert

Nussbaumer

asst coach

Detroit Lions

Michigan

Gerry

Perry

79

Detroit Lions

California

Buster

Ramsey

asst coach

Detroit Lions

William and Mary

College Hall of Fame

Jerry

Reichow

80

Detroit Lions

Iowa

Tobin

Rote

18

Detroit Lions

Rice

Packers Hall of Fame

Ken

Russell

53

Detroit Lions

Bowling Green

Joe

Schmidt

56

Detroit Lions

Pittsburgh

Pro Football Hall of Fame, College Hall of Fame

Maurie

Schubot

box office treasurer

Detroit Lions

Harley

Sewell

66

Detroit Lions

Texas

College Hall of Fame

Richard

Thompson

physician

Detroit Lions

Tom

Tracy

30

Detroit Lions

Tennessee

George

Wilson Sr.

head coach

Detroit Lions

Northwestern

Roger

Zatkoff

57

Detroit Lions

Michigan