1956 Topps #45: Cleveland Browns Team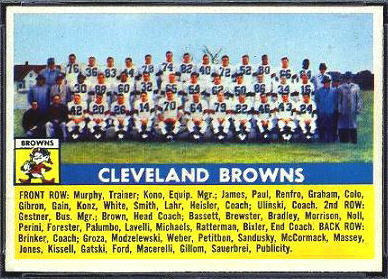 This card pictures the 1955 Cleveland Browns team. 1955 was Otto Graham's last season, and the Browns won the NFL Championship. Hall of Fame coach Chuck Noll was a linebacker on the team.
Move your cursor over the card to see the players' names.
Player
#
Pro Team
College
Honors

Maurice

Bassett

30

Cleveland Browns

Langston

Paul

Bixler

end coach

Cleveland Browns

Mount Union

Hal

Bradley

60

Cleveland Browns

Iowa

Pete

Brewster

88

Cleveland Browns

Purdue

Howard

Brinker

coach

Cleveland Browns

Paul

Brown

head coach

Cleveland Browns

Miami Ohio

Pro Football Hall of Fame, Browns Ring of Honor

Don

Colo

70

Cleveland Browns

Brown

Len

Ford

80

Cleveland Browns

Michigan

,

Morgan State

Pro Football Hall of Fame, Browns Ring of Honor

Herschel

Forester

62

Cleveland Browns

SMU

Bob

Gain

79

Cleveland Browns

Kentucky

Outland Trophy, College Hall of Fame

Frank

Gatski

52

Cleveland Browns

Marshall

Pro Football Hall of Fame, Browns Ring of Honor

Russ

Gestner

bus. mgr.

Cleveland Browns

Abe

Gibron

64

Cleveland Browns

Valparaiso

,

Purdue

Horace

Gillom

84

Cleveland Browns

Ohio State

,

Nevada

Otto

Graham

14

Cleveland Browns

Northwestern

College Hall of Fame, Pro Football Hall of Fame, Browns Ring of Honor

Lou

Groza

76

Cleveland Browns

Ohio State

Pro Football Hall of Fame, Browns Ring of Honor

Fritz

Heisler

coach

Cleveland Browns

Miami Ohio

Tommy

James

42

Cleveland Browns

Ohio State

Dub

Jones

40

Cleveland Browns

LSU

,

Tulane

John

Kissell

72

Cleveland Browns

Boston College

Morrie

Komo

equip mgr

Cleveland Browns

Ken

Konz

22

Cleveland Browns

LSU

Warren

Lahr

24

Cleveland Browns

Case Western

Dante

Lavelli

86

Cleveland Browns

Ohio State

Pro Football Hall of Fame, Browns Ring of Honor

John

Macerelli

66

Cleveland Browns

St. Vincent

Carlton

Massey

82

Cleveland Browns

Texas

,

Southwestern

Mike

McCormack

74

Cleveland Browns

Kansas

Pro Football Hall of Fame, Browns Ring of Honor

Walt

Michaels

34

Cleveland Browns

Washington and Lee

Ed

Modzelewski

36

Cleveland Browns

Maryland

Fred

Morrison

32

Cleveland Browns

Ohio State

Leo

Murphy

trainer

Cleveland Browns

Chuck

Noll

65

Cleveland Browns

Dayton

Pro Football Hall of Fame

Sam

Palumbo

50

Cleveland Browns

Notre Dame

Don

Paul

20

Cleveland Browns

Washington State

Pete

Perini

54

Cleveland Browns

Ohio State

John

Petitbon

44

Cleveland Browns

Notre Dame

George

Ratterman

16

Cleveland Browns

Notre Dame

Ray

Renfro

26

Cleveland Browns

North Texas

John

Sandusky

78

Cleveland Browns

Villanova

Harold

Sauerbrei

publicity director

Cleveland Browns

Robert

Smith

43

Cleveland Browns

Nebraska

Ed

Ulinski

coach

Cleveland Browns

Marshall

Chuck

Weber

83

Cleveland Browns

West Chester

Bob

White

46

Cleveland Browns

Stanford