1956 Topps #113: New York Giants Team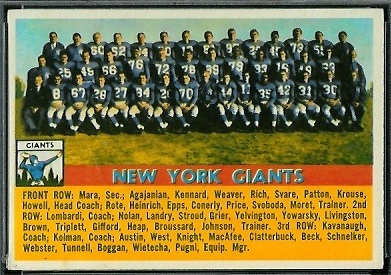 This card pictures the 1955 New York Giants team. Future Hall of Fame coaches Vince Lombardi and Tom Landry are included in the photo. Lombardi is an assistant coach in the second row, and Landry is a player, also in the second row.
Move your cursor over the card to see the players' names.
Player
#
Pro Team
College
Honors

Ben

Agajanian

8

New York Giants

New Mexico

Bill

Austin

80

New York Giants

Oregon State

Ray

Beck

61

New York Giants

Georgia Tech

College Hall of Fame

Rex

Boggan

73

New York Giants

Mississippi

Fred

Broussard

63

New York Giants

Texas A and M

,

Northwestern State (LA)

Roosevelt

Brown

79

New York Giants

Morgan State

Pro Football Hall of Fame, Giants Ring of Honor

Bob

Clatterbuck

12

New York Giants

Houston

Charley

Conerly

42

New York Giants

Mississippi

College Hall of Fame, Giants Ring of Honor

Bobby

Epps

35

New York Giants

Pittsburgh

Frank

Gifford

16

New York Giants

USC

,

Bakersfield College

College Hall of Fame, Pro Football Hall of Fame

Roosevelt

Grier

76

New York Giants

Penn State

Joe

Heap

48

New York Giants

Notre Dame

Don

Heinrich

11

New York Giants

Washington

College Hall of Fame

Jim Lee

Howell

head coach

New York Giants

Arkansas

Giants Ring of Honor

John

Johnson

trainer

New York Giants

Ken

Kavanaugh

coach

New York Giants

LSU

College Hall of Fame

George

Kennard

67

New York Giants

Kansas

Pat

Knight

34

New York Giants

SMU

Ed

Kolman

coach

New York Giants

Temple

Ray

Krouse

70

New York Giants

Maryland

Tom

Landry

49

New York Giants

Texas

Pro Football Hall of Fame, Cowboys Ring of Honor

Cliff

Livingston

89

New York Giants

UCLA

Vince

Lombardi

coach

New York Giants

Fordham

Redskins Ring of Fame, Pro Football Hall of Fame, Packers Hall of Fame

Ken

MacAfee

80

New York Giants

Alabama

College Hall of Fame

Wellington

Mara

secretary

New York Giants

Fordham

Pro Football Hall of Fame, Giants Ring of Honor

Sid

Moret

trainer

New York Giants

Dick

Nolan

25

New York Giants

Maryland

Jim

Patton

20

New York Giants

Mississippi

Eddie

Price

31

New York Giants

Tulane

College Hall of Fame

Joe

Pugni

equip. mgr.

New York Giants

Herb

Rich

27

New York Giants

Vanderbilt

Kyle

Rote

44

New York Giants

SMU

College Hall of Fame

Bob

Schnelker

85

New York Giants

Bowling Green

Jack

Stroud

66

New York Giants

Tennessee

Harland

Svare

84

New York Giants

Washington State

Bill

Svoboda

30

New York Giants

Tulane

Mel

Triplett

33

New York Giants

Toledo

Emlen

Tunnell

45

New York Giants

Iowa

,

Toledo

Pro Football Hall of Fame, Giants Ring of Honor

Larrye

Weaver

28

New York Giants

Antelope Valley JC

,

Fullerton JC

Alex

Webster

29

New York Giants

North Carolina State

Giants Ring of Honor

Stan

West

62

New York Giants

Oklahoma

Ray

Wietecha

55

New York Giants

Northwestern

,

Michigan State

Dick

Yelvington

72

New York Giants

Georgia

Walt

Yowarsky

78

New York Giants

Kentucky