Uncut Sheets of 1967 Topps Football Cards
First Half-Sheet
The picture below shows the configuration of an uncut half-sheet of 1967 Topps football cards. It is modeled after a real half-sheet that appeared in an eBay auction. If you hold your cursor above a card, your browser should show you the number of the card and the name of the player. Clicking on a card will bring up the full-sized scan. (A real uncut sheet would not have black lines between the cards--that is an effect of scanning them individually.)
There are 132 cards in the 1967 Topps set, and this half-sheet contains exactly one set. The cards were printed on a 264-card full sheet like this 1966 Topps baseball card sheet.
Thirty-three of these 1967 Topps football cards, along with seventy-seven 1968 Topps baseball cards and twenty-two 1965 Topps Hot Rod cards, appeared in a 1969 Milton Bradley game called Win-A-Card. The thirty-three football cards appear in rows 4, 8, and 10 of this half-sheet. There is a nice article about the Win-A-Card set, including a diagram of a half-sheet of cards, on the Sports Collectors Digest web site.
The following table shows how the cards were arranged by number on the half-sheet above. The cards in green have the lowest populations in PSA 8 and above, according to PSA's population report. You can see from the pattern that cards on the edges of the sheet tended to get damaged in production. Card number 131, Leslie Duncan, in the top left corner of the sheet, is easily the most difficult card in this set to find in high grade.
Second Half-Sheet
I have seen a picture of only one half-sheet of 1967 Topps cards, so I am not 100% certain what the second half-sheet looked like. My guess, though, that it was configured just like the first half sheet, except that the top six rows were switched with the bottom six rows. I have seen this pattern in 1960 Fleer sheets and 1969 Topps first series sheets, also.
Here is some evidence for my guess: The Leslie Duncan card shown here was obviously printed beneath a card with a yellow bottom. On the half-sheet above, however, the Duncan card was in the top row, with no cards above it. I believe that the sliver of yellow is from a Curtis McClinton card. On the first half-sheet, McClinton was the first card in the bottom row. On the second half-sheet, I believe that McClinton was the first card in the sixth row, and Duncan was the first card in the seventh.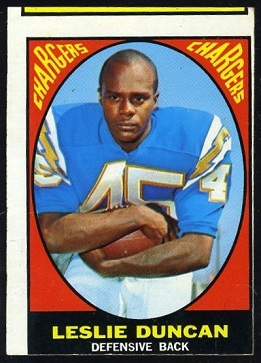 If my guess is correct, this is how the second half-sheet was configured:
And this is how the second half-sheet was numbered:
For more virtual uncut sheets, see the Gallery's master uncut sheet page.