1973 Auburn Playing Cards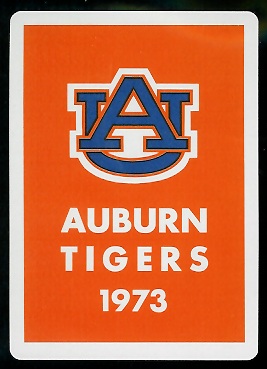 The 1973 Auburn playing card deck contains pictures of fifty players, coach Shug Jordan, and athletic director Lee Hayley. The jokers are Cliff Hare Stadium and Auburn Memorial Coliseum. Thirty-three of the cards are identical to those in the 1972 deck, except for the year on the back. Only one player who appeared in both decks, Mike Fuller, got a different picture in 1973. Four of the players--Fuller, Ken Bernich, Dan Nugent, and Lee Gross--went on to play in the NFL. Fuller had the longest NFL career, eight seasons with the Chargers and Bengals.
The 1973 Auburn team finished 2-5 in the SEC and 6-6 overall.

Buying? Search nearmintcards.com for 1973 Auburn Playing Cards.

Show all eBay listings for 1973 Auburn Playing Cards.