1970 Topps Football Cards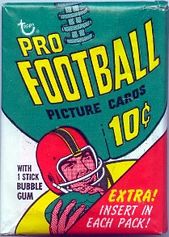 There are 263 cards in the 1970 Topps football card set. They were released in two series, with cards 1-132 in the first series, and cards 132-263 in the second. Second series cards appear to have been printed in slightly smaller quantities, so they tend to sell for a bit more. Card #132, the second series checklist, was included in both series, and is thus a double print.
There are variations of two cards in the set: the Lance Rentzel and Calvin Hill cards were printed with the player's name in either red or black. In each case, the variation with the black name is much scarcer than the one with the red name.
First series 1970 Topps packs included poster inserts, and second series packs included 1970 Topps Super Glossy cards. The posters were a weak effort: though they have the players' names on them, the pictures on them are generic drawings that could be anybody. I don't yet have the posters in the Gallery, but you can see examples on eBay. The Super Glossies, on the other hand, are brilliant, and they are among my favorite football cards.
Rookie cards of Pro Football Hall of Famers in the 1970 Topps set: O.J. Simpson, Alan Page, Jan Stenerud, Lem Barney, Tom Mack, Elvin Bethea, Claude Humphrey. Rookie cards of Heisman Trophy winners in the 1970 Topps set: O.J. Simpson, Mike Garrett.
Image
Set
#
Card Title/Players
Pro Team
Position
College
Honors
Notes
Grades available at Nearmint Sports Cards
1970 Topps
1
Len Dawson
Kansas City Chiefs
quarterback
Purdue
Chiefs Hall of Fame 1979, Pro Football Hall of Fame 1987
1970 Topps
2
Doug Hart
Green Bay Packers
defensive back
Texas - Arlington
Rookie card
1970 Topps
3
Verlon Biggs
New York Jets
defensive end
Jackson State
1970 Topps
4
Ralph Neely
Dallas Cowboys
tackle
Oklahoma
Rookie card

Neely played 13 seasons in the NFL, all with the Cowboys.
1970 Topps
5
Harmon Wages
Atlanta Falcons
running back
Florida
Rookie card
PSA 8
1970 Topps
6
Dan Conners
Oakland Raiders
linebacker
Miami Florida
Rookie card
1970 Topps
7
Gino Cappelletti
Boston Patriots
end
Minnesota
Patriots Hall of Fame 1992
Cappelletti was inducted into the National Italian American Sports Hall of Fame in 1984.
1970 Topps
8
Erich Barnes
Cleveland Browns
defensive back
Purdue
1970 Topps
9
Checklist 1-132
1970 Topps
10
Bob Griese
Miami Dolphins
quarterback
Purdue
College Hall of Fame 1984, Dolphins Honor Roll 1990, Pro Football Hall of Fame 1990
1970 Topps
11
Ed Flanagan
Detroit Lions
center
Purdue
Rookie card
1970 Topps
12
George Seals
Chicago Bears
defensive tackle
Missouri
Rookie card
1970 Topps
13
Harry Jacobs
Buffalo Bills
defensive end
Bradley
Jacobs is a member of the Greater Peoria Sports Hall of Fame.
PSA 8
1970 Topps
14
Mike Haffner
Denver Broncos
wide receiver
UCLA
Rookie card
1970 Topps
15
Bob Vogel
Baltimore Colts
tackle
Ohio State
1970 Topps
16
Bill Peterson
Cincinnati Bengals
linebacker
San Jose State
Rookie card
1970 Topps
17
Spider Lockhart
New York Giants
defensive back
North Texas
1970 Topps
18
Billy Truax
Los Angeles Rams
end
LSU
1970 Topps
19
Jim Beirne
Houston Oilers
wide receiver
Purdue
Rookie card
nm
1970 Topps
20
Leroy Kelly
Cleveland Browns
running back
Morgan State
Pro Football Hall of Fame 1994, Browns Ring of Honor 2010
1970 Topps
21
Dave Lloyd
Philadelphia Eagles
linebacker
Georgia
1970 Topps
22
Mike Tilleman
New Orleans Saints
defensive tackle
Montana
1970 Topps
23
Gary Garrison
San Diego Chargers
wide receiver
San Diego State
Chargers Hall of Fame 1985
1970 Topps
24
Larry Brown
Washington Redskins
running back
Kansas State
Redskins Ring of Fame
Rookie card
1970 Topps
25
Jan Stenerud
Kansas City Chiefs
kicker
Montana State
Packers Hall of Fame 1991, Pro Football Hall of Fame 1991, Chiefs Hall of Fame 1992
Rookie card

Buying? Search nearmintcards.com for 1970 Topps.

Show all eBay listings for 1970 Topps football cards.