1964 Philadelphia Football Cards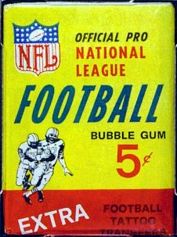 The 1964 Philadelphia set is the first of four football card sets produced by the Philadelphia Gum Company in the mid 1960s. The set contains only NFL players; AFL players appeared in the 1964 Topps set. The 198 cards in the 1964 Philadelphia set were printed on a 264-card sheet, so 66 of the cards were repeated on the sheet. Those 66 cards are thus double prints, but they are not documented in the price guides. I have a good idea which cards are double prints, and when I get a chance, I will mark them here.
You can see what half of a sheet of these cards looked like on my 1964 Philadelphia virtual uncut sheet page. Also see my blog article, P is for Philadelphia, for an overview of the 1964-1967 Philadelphia football card sets.
Rookie cards of Pro Football Hall of Famers in the 1964 Philadelphia set: Herb Adderley, Willie Davis, Merlin Olsen, John Mackey, Jim Johnson, Mick Tingelhoff.
Image
Set
#
Card Title/Players
Pro Team
Position
College
Honors
Notes
Grades available at Nearmint Sports Cards
1964 Philadelphia
1
Raymond Berry
Baltimore Colts
end
SMU
Pro Football Hall of Fame 1973
PSA 6, ex
1964 Philadelphia
2
Tom Gilburg
Baltimore Colts
guard, punter
Syracuse
1964 Philadelphia
3
John Mackey
Baltimore Colts
tight end
Syracuse
Pro Football Hall of Fame 1992
Rookie card
1964 Philadelphia
4
Gino Marchetti
Baltimore Colts
defensive end
San Francisco
Pro Football Hall of Fame 1972
1964 Philadelphia
5
Jim Martin
Baltimore Colts
linebacker, kicker
Notre Dame
College Hall of Fame 1995
SGC 92
1964 Philadelphia
6
Tom Matte
Baltimore Colts
halfback
Ohio State
Rookie card
1964 Philadelphia
7
Jimmy Orr
Baltimore Colts
end
Georgia
Orr led the NFL in yards per catch in 1958, 1964, and 1968.
1964 Philadelphia
8
Jim Parker
Baltimore Colts
guard, tackle
Ohio State
Outland Trophy 1956, Pro Football Hall of Fame 1973, College Hall of Fame 1974
nm+
1964 Philadelphia
9
Bill Pellington
Baltimore Colts
linebacker
Rutgers
SGC 92
1964 Philadelphia
10
Alex Sandusky
Baltimore Colts
guard
Clarion Teachers College
1964 Philadelphia
11
Dick Szymanski
Baltimore Colts
center
Notre Dame
Szymanski was inducted into the National Polish-American Sports Hall of Fame in 1994.
1964 Philadelphia
12
John Unitas
Baltimore Colts
quarterback
Louisville
Pro Football Hall of Fame 1979
PSA 8
1964 Philadelphia
13
Baltimore Colts Team
Baltimore Colts
1964 Philadelphia
14
Colts Play of the Year
Before coaching, Shula was a defensive back for the Browns, Colts, and Redskins.
exmt
Don Shula
Baltimore Colts
coach
John Carroll
Dolphins Honor Roll 1996, Pro Football Hall of Fame 1997
1964 Philadelphia
15
Doug Atkins
Chicago Bears
defensive end
Tennessee
Pro Football Hall of Fame 1982, College Hall of Fame 1985, Saints Hall of Fame 1995
1964 Philadelphia
16
Ron Bull
Chicago Bears
running back
Baylor
1964 Philadelphia
17
Mike Ditka
Chicago Bears
tight end
Pittsburgh
Pro Football Hall of Fame 1988
1964 Philadelphia
18
Joe Fortunato
Chicago Bears
linebacker
Mississippi State
1964 Philadelphia
19
Willie Galimore
Chicago Bears
halfback
Florida A and M
College Hall of Fame 1999
Galimore died in a car accident before the 1964 season. The Bears retired his jersey number, 28. See the Gallery's retired numbers page for the retired numbers of all of the NFL teams.
1964 Philadelphia
20
Joe Marconi
Chicago Bears
fullback
West Virginia
1964 Philadelphia
21
Bennie McRae
Chicago Bears
defensive back, halfback
Michigan
Rookie card
PSA 9, SGC 92, PSA 8, SGC 88, nm
1964 Philadelphia
22
Johnny Morris
Chicago Bears
halfback
UC Santa Barbara
Morris led the NFL with 93 receptions and 1200 receiving yards in 1964.
SGC 96, SGC 88, nm-mt
1964 Philadelphia
23
Richie Petitbon
Chicago Bears
defensive back
Tulane
SGC 96, PSA 8, nm
1964 Philadelphia
24
Mike Pyle
Chicago Bears
center
Yale
Rookie card

Pyle played nine seasons in the NFL, all for the Bears.
1964 Philadelphia
25
Roosevelt Taylor
Chicago Bears
defensive back
Grambling
Rookie card
PSA 8.5, PSA 8

Buying? Search nearmintcards.com for 1964 Philadelphia.

Show all eBay listings for 1964 Philadelphia football cards.