1963 Fleer Football Cards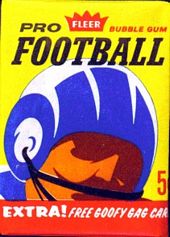 The 1963 Fleer football card set contains cards of 88 AFL players, plus an unnumbered checklist. Three of the cards are short prints, but the short prints are not nearly as scarce as the price guides indicate. For details, see my 1963 Fleer virtual uncut sheet.
1963 Fleer cards with numbers divisible by four were printed both with and without a red stripe on the bottom of the back. The cards without the stripe were those situated along the bottom of the uncut sheet. I don't show the striped and non-striped variations here, but my uncut sheet page includes some pictures of them.
Also see my blog article, F is for Fleer, for an overview of the 1960-1963 Fleer football card sets.
Rookie cards of Pro Football Hall of Famers in the 1963 Fleer set: Lance Alworth, Len Dawson, Nick Buoniconti.
Image
Set
#
Card Title/Players
Pro Team
Position
College
Honors
Notes
Grades available at Nearmint Sports Cards
1963 Fleer
1
Larry Garron
Boston Patriots
fullback
Western Illinois
Rookie card
1963 Fleer
2
Babe Parilli
Boston Patriots
quarterback
Kentucky
College Hall of Fame 1982, Patriots Hall of Fame 1993
1963 Fleer
3
Ron Burton
Boston Patriots
halfback
Northwestern
College Hall of Fame 1990
nm
1963 Fleer
4
Jim Colclough
Boston Patriots
end
Boston College
1963 Fleer
5
Gino Cappelletti
Boston Patriots
end
Minnesota
Patriots Hall of Fame 1992
1963 Fleer
6
Charles Long
Boston Patriots
tackle
Tennessee-Chatanooga
Rookie card, short print
1963 Fleer
7
Bill Neighbors
Boston Patriots
guard
Alabama
College Hall of Fame 2003
Rookie card
1963 Fleer
8
Dick Felt
Boston Patriots
defensive back
Brigham Young
Rookie card

Felt played two seasons for the New York Titans (who became the Jets) and five seasons for the Boston Patriots.
1963 Fleer
9
Tommy Addison
Boston Patriots
linebacker
South Carolina
PSA 7
1963 Fleer
10
Nick Buoniconti
Boston Patriots
linebacker
Notre Dame
Dolphins Honor Roll 1991, Patriots Hall of Fame 1992, Pro Football Hall of Fame 2001
Rookie card
PSA 8
1963 Fleer
11
Larry Eisenhauer
Boston Patriots
defensive end
Boston College
PSA 8, PSA 7
1963 Fleer
12
Bill Mathis
New York Jets
halfback
Clemson
1963 Fleer
13
Lee Grosscup
New York Jets
quarterback
Utah
Rookie card

Grosscup placed tenth in voting for the 1957 Heisman Trophy. See my page of football cards of Heisman Trophy candidates.
1963 Fleer
14
Dick Christy
New York Jets
halfback
North Carolina State
1963 Fleer
15
Don Maynard
New York Jets
end
Texas-El Paso
Pro Football Hall of Fame 1987, Jets Ring of Honor 2010
1963 Fleer
16
Alex Kroll
New York Jets
tackle, center
Rutgers, Yale
College Hall of Fame 1997
Rookie card
1963 Fleer
17
Bob Mischak
New York Jets
guard
Army
1963 Fleer
18
Dainard Paulson
New York Jets
defensive back
Oregon State
Rookie card
PSA 8
1963 Fleer
19
Lee Riley
New York Jets
defensive back
Detroit
PSA 8, nm
1963 Fleer
20
Larry Grantham
New York Jets
linebacker
Mississippi
Jets Ring of Honor 2011
PSA 8
1963 Fleer
21
Hubert Bobo
New York Jets
linebacker
Ohio State
Rookie card

Bobo scored 890 career points at Chauncey-Dover High School in Chauncey, Ohio. According to the National Federation of State High School Associations, that is the seventh highest all-time total for a high school player.
1963 Fleer
22
Nick Mumley
New York Jets
defensive end
Purdue
PSA 8, PSA 7
1963 Fleer
23
Cookie Gilchrist
Buffalo Bills
fullback
Rookie card
1963 Fleer
24
Jack Kemp
Buffalo Bills
quarterback
Occidental
Bills Wall of Fame 1984
PSA 8
1963 Fleer
25
Wray Carlton
Buffalo Bills
fullback
Duke

Buying? Search nearmintcards.com for 1963 Fleer.

Show all eBay listings for 1963 Fleer football cards.