1959 Topps Football Cards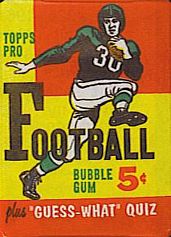 There are 176 cards in the 1959 Topps football card set. They were released in two series of 88. The second series cards, numbers 89-176, appear to have been printed in larger numbers than the first series cards. This is unusual: in most sets, the earlier series were printed in greater numbers. My virtual uncut sheet of 1959 Topps cards shows how second series sheets were configured. One peculiarity of the set is that all of the Chicago Bears cards in the set are in the second series.
It is well known that the Jim Taylor rookie card in the 1959 Topps set pictures the wrong Jim Taylor. You can see that card and numerous others that picture the wrong player on my Mistaken Identities page.
There are pictures of a 1959 Topps 5-cent display box on the Legendary Auctions web site.
Rookie cards of Pro Football Hall of Famers in the 1959 Topps set: Jim Parker, Jim Taylor, Sam Huff, Bobby Mitchell. Rookie cards of Heisman Trophy winners in the 1959 Topps set: John David Crow.
Image
Set
#
Card Title/Players
Pro Team
Position
College
Honors
Notes
Grades available at Nearmint Sports Cards
1959 Topps
1
John Unitas
Baltimore Colts
quarterback
Louisville
Pro Football Hall of Fame 1979
1959 Topps
2
Gene Brito
Los Angeles Rams
defensive end
Loyola (L.A.)
Redskins Ring of Fame
exmt, PSA 4.5
1959 Topps
3
Detroit Lions Team
Detroit Lions
1959 Topps
4
Max McGee
Green Bay Packers
end
Tulane
Packers Hall of Fame 1975
Rookie card
1959 Topps
5
Hugh McElhenny
San Francisco 49ers
halfback
Washington
Pro Football Hall of Fame 1970, College Hall of Fame 1981, 49ers Hall of Fame 2009
1959 Topps
6
Joe Schmidt
Detroit Lions
linebacker
Pittsburgh
Pro Football Hall of Fame 1973, College Hall of Fame 2000
PSA 8
1959 Topps
7
Kyle Rote
New York Giants
end
SMU
College Hall of Fame 1964
1959 Topps
8
Clarence Peaks
Philadelphia Eagles
fullback
Michigan State
1959 Topps
9
Steelers Pennant
Pittsburgh Steelers
1959 Topps
10
Jim Brown
Cleveland Browns
fullback
Syracuse
Pro Football Hall of Fame 1971, College Hall of Fame 1995, Browns Ring of Honor 2010
PSA 4, PSA 3
1959 Topps
11
Ray Mathews
Pittsburgh Steelers
end
Clemson
Steelers Legends Team
exmt
1959 Topps
12
Bobby Dillon
Green Bay Packers
defensive back
Texas
Packers Hall of Fame 1974
nm, PSA 8 oc
1959 Topps
13
Joe Childress
Chicago Cardinals
halfback
Auburn
exmt, PSA 6 st
1959 Topps
14
Terry Barr
Detroit Lions
defensive back
Michigan
Rookie card
nm
1959 Topps
15
Del Shofner
Los Angeles Rams
end
Baylor
Rookie card

Shofner and Charlie Bradshaw were teammates at Center High School in Center, Texas. See the Gallery's High School Teammates page.
nm
1959 Topps
16
Bob Pellegrini
Philadelphia Eagles
linebacker
Maryland
College Hall of Fame 1996
Name misspelled "Pellagrini" on back.
vg
1959 Topps
17
Baltimore Colts Team
Baltimore Colts
1959 Topps
18
Preston Carpenter
Cleveland Browns
halfback
Arkansas
exmt
1959 Topps
19
Leo Nomellini
San Francisco 49ers
defensive tackle
Minnesota
Pro Football Hall of Fame 1969, College Hall of Fame 1977, 49ers Hall of Fame 2009
PSA 7 oc
1959 Topps
20
Frank Gifford
New York Giants
halfback
USC, Bakersfield College
College Hall of Fame 1975, Pro Football Hall of Fame 1977
PSA 8
1959 Topps
21
Charlie Ane
Detroit Lions
center, tackle
USC
Ane's brother, Gilbert, played one game for the CFL's Montreal Alouettes in 1959.
exmt
1959 Topps
22
Jack Butler
Pittsburgh Steelers
defensive back
St. Bonaventure
Pro Football Hall of Fame 2012, Steelers Legends Team, Steelers All-Time Team
1959 Topps
23
Bart Starr
Green Bay Packers
quarterback
Alabama
Packers Hall of Fame 1977, Pro Football Hall of Fame 1977
PSA 7, PSA 5
1959 Topps
24
Cardinals Pennant
Chicago Cardinals
exmt
1959 Topps
25
Bill Barnes
Philadelphia Eagles
halfback
Wake Forest
nm

Buying? Search nearmintcards.com for 1959 Topps.

Show all eBay listings for 1959 Topps football cards.