1958 Topps Football Cards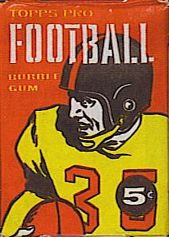 The 1958 Topps football card set contains 132 cards. The complete set fit exactly twice on a 264-card uncut sheet, so there are no short prints or double prints in the set. To see what an uncut sheet looked like, see my 1958 Topps virtual uncut sheet page. You can see pictures of a 1958 Topps 5-cent display box on the Legendary Auctions web site.
Two cards in the 1958 Topps set, R.C. Owens and Jim Podoley, picture the wrong player. For many other cards that picture the wrong player, see my Mistaken Identities page.
Rookie cards of Pro Football Hall of Famers in the 1958 Topps set: Jim Brown, Sonny Jurgensen.
Image
Set
#
Card Title/Players
Pro Team
Position
College
Honors
Notes
Grades available at Nearmint Sports Cards
1958 Topps
1
Gene Filipski
New York Giants
halfback
Villanova, Army
Rookie card

Filipski played for the New York Giants in 1956 and 1957, and for the Calgary Stampeders from 1958 to 1961.
exmt
1958 Topps
2
Bobby Layne
Detroit Lions
quarterback
Texas
Pro Football Hall of Fame 1967, College Hall of Fame 1968, Steelers Legends Team
1958 Topps
3
Joe Schmidt
Detroit Lions
linebacker
Pittsburgh
Pro Football Hall of Fame 1973, College Hall of Fame 2000
1958 Topps
4
Bill Barnes
Philadelphia Eagles
halfback
Wake Forest
Rookie card
nm oc
1958 Topps
5
Milt Plum
Cleveland Browns
quarterback
Penn State
Rookie card
1958 Topps
6
Bill Howton
Green Bay Packers
end
Rice
Packers Hall of Fame 1974
Error card

This is the only place I have seen Howton's first name spelled "Billie."
1958 Topps
7
Howard Cassady
Detroit Lions
halfback
Ohio State
Heisman Trophy 1955, College Hall of Fame 1979
Cassady finished third in voting for the Heisman Trophy in 1954, behind Alan Ameche and Kurt Burris.
1958 Topps
8
Jim Dooley
Chicago Bears
end
Miami Florida
nm
1958 Topps
9
Cleveland Browns Team
Cleveland Browns
exmt
1958 Topps
10
Lenny Moore
Baltimore Colts
halfback
Penn State
Pro Football Hall of Fame 1975
1958 Topps
11
Pete Brewster
Cleveland Browns
end
Purdue
1958 Topps
12
Alan Ameche
Baltimore Colts
fullback
Wisconsin
Heisman Trophy 1954, College Hall of Fame 1975
Ameche scored the winning touchdown in the 1958 NFL Championship Game, the "Greatest Game Ever Played."
1958 Topps
13
Jim David
Detroit Lions
defensive back
Colorado State
ex
1958 Topps
14
Jim Mutscheller
Baltimore Colts
end
Notre Dame
PSA 8
1958 Topps
15
Andy Robustelli
New York Giants
defensive end
Arnold College
Pro Football Hall of Fame 1971, Giants Ring of Honor 2010
1958 Topps
16
Gino Marchetti
Baltimore Colts
defensive end
San Francisco
Pro Football Hall of Fame 1972
1958 Topps
17
Ray Renfro
Cleveland Browns
halfback
North Texas
ex
1958 Topps
18
Yale Lary
Detroit Lions
defensive back
Texas A and M
Pro Football Hall of Fame 1979
1958 Topps
19
Gary Glick
Pittsburgh Steelers
defensive back, kicker
Colorado State
Rookie card

The Steelers chose Glick with the first overall pick in the 1956 NFL draft.
nm
1958 Topps
20
Jon Arnett
Los Angeles Rams
halfback
USC
College Hall of Fame 2001
Rookie card
1958 Topps
21
Bob Boyd
Los Angeles Rams
end
Loyola (L.A.)
nm
1958 Topps
22
John Unitas
Baltimore Colts
quarterback
Louisville
Pro Football Hall of Fame 1979
Error card

Back of card says Unitas's college was Pittsburgh, but he went to Louisville.
1958 Topps
23
Zeke Bratkowski
Chicago Bears
quarterback
Georgia
Packers Hall of Fame 1989
1958 Topps
24
Sid Youngelman
Philadelphia Eagles
defensive tackle
Alabama
Error card

Name misspelled Youngleman on back
1958 Topps
25
Leo Elter
Washington Redskins
fullback
Villanova
nm+

Buying? Search nearmintcards.com for 1958 Topps.

Show all eBay listings for 1958 Topps football cards.