1951 Topps Magic Football Cards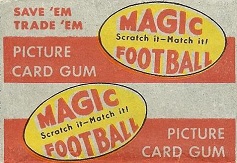 The 1951 Topps Magic set contains cards of 75 college players. What makes the cards "magic" is a scratch-off section on the back that reveals the player's school. You can see pictures of the card backs, both scratched and unscratched, in my blog article, S is for Scratch-Offs. Another blog article, T is for Topps, Part 1, has descriptions of all of the 1950-1959 Topps sets.
Rookie cards of Heisman Trophy winners in the 1951 Topps Magic set: Vic Janowicz.
Image
Set
#
Card Title/Players
Pro Team
Position
College
Honors
Notes
Grades available at Nearmint Sports Cards
1951 Topps Magic
1
Jimmy Monahan
halfback
Rutgers
Rookie card
1951 Topps Magic
2
Bill Wade
quarterback
Vanderbilt
Rookie card
1951 Topps Magic
3
Bill Reichardt
fullback
Iowa
Rookie card

Reichardt won the Big Ten's MVP award, the Chicago Tribune Silver Football, in 1951.
1951 Topps Magic
4
Babe Parilli
quarterback
Kentucky
College Hall of Fame 1982, Patriots Hall of Fame 1993
Rookie card
1951 Topps Magic
5
Bill Burkhalter
halfback
Rice
Burkhalter, Joe Watson, and Froggy Williams were the MVPs of the January 1, 1950, Cotton Bowl Classic.
1951 Topps Magic
6
Ed Weber
halfback
William and Mary
1951 Topps Magic
7
Tom Scott
defensive end
Virginia
College Hall of Fame 1979
1951 Topps Magic
8
Frank Guthridge
quarterback
Delaware
1951 Topps Magic
9
John Karras
halfback
Illinois
Rookie card
PSA 5
1951 Topps Magic
10
Vic Janowicz
halfback
Ohio State
Heisman Trophy 1950, College Hall of Fame 1976
Rookie card

Janowicz played baseball for the Pittsburgh Pirates in 1953 and 1954. You can see his 1954 Bowman baseball card on the Gallery's Cards in Multiple Sports page.
1951 Topps Magic
11
Lloyd Hill
tackle
Brown
1951 Topps Magic
12
Jim Weatherall
tackle
Oklahoma
Outland Trophy 1951, College Hall of Fame 1992
1951 Topps Magic
13
Howard Hansen
halfback
Columbia
1951 Topps Magic
14
Lou D'Achille
quarterback
Indiana
D'Achille was inducted into the Beaver County (Pennsylvania) Sports Hall of Fame in 1986.
PSA 6
1951 Topps Magic
15
Johnny Turco
halfback
Holy Cross
1951 Topps Magic
16
Jerrell Price
tackle
Texas Tech
1951 Topps Magic
17
John Coatta
quarterback
Wisconsin
1951 Topps Magic
18
Bruce Patton
quarterback
Marquette
1951 Topps Magic
19
Marion Campbell
defensive end
Georgia
Rookie card
1951 Topps Magic
20
Blaine Earon
defensive end
Duke
Earon played for the Detroit Lions in 1952 and 1953.
1951 Topps Magic
21
Dewey McConnell
end
Wyoming
McConnell played for the Pittsburgh Steelers in 1954.
PSA 6
1951 Topps Magic
22
Ray Beck
guard, defensive tackle
Georgia Tech
College Hall of Fame 1997
1951 Topps Magic
23
Jim Prewett
tackle
Tulsa
PSA 6
1951 Topps Magic
24
Bob Steele
quarterback
Oklahoma State
PSA 4
1951 Topps Magic
25
Art Betts
end
Penn State

Buying? Search nearmintcards.com for 1951 Topps Magic.

Show all eBay listings for 1951 Topps Magic football cards.