1950 Bowman Football Cards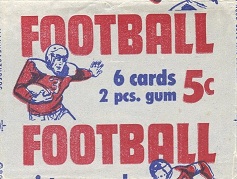 There are 144 cards in the 1950 Bowman football card set; they were printed on 4 sheets of 36. My 1950 Bowman virtual uncut sheet page shows what the sheets looked like. Though the price guides do not say that any of the cards are short prints, it appears to me that the last sheet, which held cards 109-144, was printed in somewhat smaller numbers than the others.
You can see an empty display box for 1950 Bowman cards on the Legendary Auctions web site. Also see my blog article, B is for Bowman, for an overview of the 1948-1955 Bowman football card sets.
Rookie cards of Pro Football Hall of Famers in the 1950 Bowman set: Otto Graham, Elroy Hirsch, Marion Motley, Joe Perry, Tom Fears, Y.A. Tittle, Tony Canadeo, Lou Groza, Dante Lavelli, Jim Finks. Rookie cards of Heisman Trophy winners in the 1950 Bowman set: Glenn Davis.
Image
Set
#
Card Title/Players
Pro Team
Position
College
Honors
Notes
Grades available at Nearmint Sports Cards
1950 Bowman
1
Doak Walker
Detroit Lions
halfback
SMU
Heisman Trophy 1948, College Hall of Fame 1959, Pro Football Hall of Fame 1986
Walker led the NFL in scoring in 1950, with 128 points. He was the 1950 rookie of the year.
1950 Bowman
2
John Greene
Detroit Lions
end
Michigan
Rookie card

Greene was a lineman in college, and he played guard for the Lions in his first season, 1944. He switched to end in 1945, and he averaged 16.9 yards per catch for his career. 1950 was his last season.
1950 Bowman
3
Bob Nowaskey
Baltimore Colts
end, linebacker
George Washington
Rookie card, error card

Nowaskey's last name is misspelled "Nowasky" on the back of this card.
nm+
1950 Bowman
4
Jonathan Jenkins
Baltimore Colts
tackle
Dartmouth
Rookie card

Jenkins played three games for the Colts and one for the New York Yanks in 1950. He had been with the Colts in the AAFC in 1949.
PSA 7, exmt
1950 Bowman
5
Y.A. Tittle
Baltimore Colts
quarterback
LSU
Pro Football Hall of Fame 1971, 49ers Hall of Fame 2009, Giants Ring of Honor 2010
Rookie card

Tittle started his career with the AAFC's Baltimore Colts in 1948. He remained with the team when it joined the NFL in 1950. He led the league in pass completions that year, with 161.
1950 Bowman
6
Lou Groza
Cleveland Browns
tackle, kicker
Ohio State
Pro Football Hall of Fame 1974, Browns Ring of Honor 2010
Rookie card

Groza played 21 seasons for the Browns, 4 in the AAFC and 17 in the NFL.
1950 Bowman
7
Alex Agase
Cleveland Browns
guard
Illinois
College Hall of Fame 1963
Rookie card

Agase played 3 seasons for the Chicago Rockets, Los Angeles Dons, and Cleveland Browns of the AAFC, then 3 seasons for the Browns and Baltimore Colts of the NFL. He later held head coaching jobs at Northwestern and Purdue.
nm
1950 Bowman
8
Mac Speedie
Cleveland Browns
end
Utah
Rookie card

Speedie played from 1946 to 1952 for the Browns, then he played three seasons in the CFL. He was a finalist for the Pro Football Hall of Fame in 1970, 1972, and 1983. See my Almost Hall of Famers page.
exmt
1950 Bowman
9
Tony Canadeo
Green Bay Packers
halfback
Gonzaga
Packers Hall of Fame 1973, Pro Football Hall of Fame 1974
Rookie card

Canadeo played from 1941 to 1952 for the Packers. He missed most of the 1944 season and all of the 1945 season to serve in World War II.
PSA 7
1950 Bowman
10
Larry Craig
Green Bay Packers
end
South Carolina
Packers Hall of Fame 1973
Rookie card

Craig played from 1939 to 1949 for the Packers. He did not play in 1950, the year he finally appeared on a football card.
PSA 4
1950 Bowman
11
Ted Fritsch Sr.
Green Bay Packers
fullback
Wisconsin - Stevens Point
Packers Hall of Fame 1973
Fritsch's son, Ted Fritsch Jr., played seven seasons in the NFL.
1950 Bowman
12
Joe Golding
New York Yanks
halfback
Oklahoma
Rookie card

Golding played from 1947 to 1952 for the Boston/New York Yanks. He led the NFL with five fumble recoveries in 1948.
exmt
1950 Bowman
13
Martin Ruby
New York Yanks
tackle
Texas A and M
Canadian Football Hall of Fame 1974
Rookie card

1950 was Ruby's only season in the NFL. He had played four years in the AAFC, and he went on to play seven years for Saskatchewan in the CFL.
nm
1950 Bowman
14
George Taliaferro
New York Yanks
halfback
Indiana
College Hall of Fame 1981
Taliaferro was the first African-American ever drafted by an NFL team. The Bears picked him in 1949, but he opted to play for the Los Angeles Dons of the AAFC.
nm
1950 Bowman
15
Tank Younger
Los Angeles Rams
fullback
Grambling
College Hall of Fame 2000
Rookie card

Younger played from 1949 to 1958 for the Rams and Steelers.
1950 Bowman
16
Glenn Davis
Los Angeles Rams
halfback
Army, Cal Poly-Pomona
Heisman Trophy 1946, College Hall of Fame 1961
Rookie card

Davis finished second in Heisman voting in 1944, second in 1945, and first in 1946. See my page of football cards of Heisman candidates.
PSA 7
1950 Bowman
17
Bob Waterfield
Los Angeles Rams
quarterback
UCLA
Pro Football Hall of Fame 1965
PSA 7
1950 Bowman
18
Val Jansante
Pittsburgh Steelers
end
Duquesne, Villanova
nm+
1950 Bowman
19
Joe Geri
Pittsburgh Steelers
halfback
Georgia
exmt
1950 Bowman
20
Jerry Nuzum
Pittsburgh Steelers
halfback
Compton Community College, New Mexico A and M
1950 Bowman
21
Elmer Angsman
Chicago Cardinals
halfback
Notre Dame
1950 Bowman
22
Billy Dewell
Chicago Cardinals
end
SMU
PSA 7, nm
1950 Bowman
23
Steve Van Buren
Philadelphia Eagles
halfback
LSU
Pro Football Hall of Fame 1965, Eagles Honor Roll 1987
Van Buren led the NFL in rushing four times: 1945, 1947, 1948, and 1949.
PSA 8
1950 Bowman
24
Cliff Patton
Philadelphia Eagles
guard, kicker
TCU
Rookie card

Patton led the NFL with 8 field goals in 1948 and 9 in 1949. (Bob Waterfield also kicked 9 in 1949.)
exmt
1950 Bowman
25
Bosh Pritchard
Philadelphia Eagles
halfback
Virginia Military Institute, Georgia Tech
PSA 8, PSA 7, nm+ oc

Buying? Search nearmintcards.com for 1950 Bowman.

Show all eBay listings for 1950 Bowman football cards.