1948 Bowman Football Cards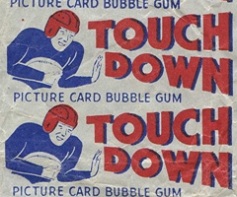 There are 108 cards in Bowman's first football card set; they were printed on three sheets of 36. Cards with numbers divisible by 3 were short-printed, but not nearly as severely as the price guides indicate. Because of their positions on the sheets, some of the cards with numbers not divisible by 3 are actually scarcer in high grades. See my 1948 Bowman virtual uncut sheet page for an explanation. Also see B is for Bowman for a summary of the early Bowman sets.
Bowman also printed an album for the 1948 set. You can see pictures of one on the Robert Edwards Auctions web site. According to the auction description, the album was a "premium" that collectors could obtain by redeeming football card wrappers.
Rookie cards of Pro Football Hall of Famers in the 1948 Bowman set: Sammy Baugh, Sid Luckman, Steve Van Buren, Bob Waterfield, Bill Dudley, George McAfee, Bulldog Turner, Charley Trippi, Alex Wojciechowicz, Pete Pihos. Rookie cards of Heisman Trophy winners in the 1948 Bowman set: John Lujack, Leslie Horvath, Bruce Smith.
Image
Set
#
Card Title/Players
Pro Team
Position
College
Honors
Notes
Grades available at Nearmint Sports Cards
1948 Bowman
1
Joe Tereshinski
Washington Redskins
end
Georgia
Rookie card
PSA 8
1948 Bowman
2
Larry Olsonoski
Green Bay Packers
guard
Minnesota
Rookie card
1948 Bowman
3
John Lujack
Chicago Bears
quarterback
Notre Dame
Heisman Trophy 1947, College Hall of Fame 1960
Rookie card, short print
1948 Bowman
4
Ray Poole
New York Giants
end
Mississippi, North Carolina
Rookie card
1948 Bowman
5
Bill DeCorrevont
Chicago Cardinals
halfback
Northwestern
Rookie card
PSA 8, exmt oc
1948 Bowman
6
Paul Briggs
Detroit Lions
tackle
Colorado
Rookie card, short print
1948 Bowman
7
Steve Van Buren
Philadelphia Eagles
halfback
LSU
Pro Football Hall of Fame 1965, Eagles Honor Roll 1987
Rookie card

According to his page on the Pro Football Hall of Fame web site, Van Buren failed to make his high school football team as a sophomore.
1948 Bowman
8
Kenny Washington
Los Angeles Rams
fullback, halfback
UCLA
College Hall of Fame 1956
Rookie card
1948 Bowman
9
Nolan Luhn
Green Bay Packers
end
Kilgore Junior College, Tulsa
Rookie card, short print
1948 Bowman
10
Chris Iverson
New York Giants
defensive back
Oregon
Rookie card, error card

Iverson's name is misspelled Iversen on the back of this card.
PSA 8, ex
1948 Bowman
11
Jack Wiley
Pittsburgh Steelers
tackle
Waynesburg
Rookie card
1948 Bowman
12
Charley Conerly
New York Giants
quarterback
Mississippi
College Hall of Fame 1966, Giants Ring of Honor 2010
Rookie card, short print
1948 Bowman
13
Hugh Taylor
Washington Redskins
end, coach
Tulane, Oklahoma City University
Rookie card
1948 Bowman
14
Frank Seno
Boston Yanks
halfback
George Washington
Rookie card

Seno intercepted 10 passes in 1947, tying Frank Reagan for most in the NFL.
1948 Bowman
15
Gil Bouley
Los Angeles Rams
tackle
Boston College
Rookie card, short print
PSA 3
1948 Bowman
16
Tommy Thompson
Philadelphia Eagles
quarterback, coach
Tulsa
Rookie card
vg
1948 Bowman
17
Charley Trippi
Chicago Cardinals
halfback
Georgia
College Hall of Fame 1959, Pro Football Hall of Fame 1968, Cardinals Ring of Honor 2006
Rookie card

The Chicago Cardinals chose Trippi with the first overall pick in the 1945 NFL draft.
good
1948 Bowman
18
Vince Banonis
Chicago Cardinals
defensive tackle
Detroit Mercy
College Hall of Fame 1986
Rookie card, short print
ex
1948 Bowman
19
Art Faircloth
New York Giants
halfback, defensive back
North Carolina State, Guilford
Rookie card
Vg-ex
1948 Bowman
20
Clyde Goodnight
Green Bay Packers
end
Tulsa
Rookie card

Goodnight played from 1945 to 1950 for the Green Bay Packers and Washington Redskins. His brother Owen also played one season in the NFL, 1941 with the Cleveland Rams.
1948 Bowman
21
Bill Chipley
Boston Yanks
end
Clemson, Washington and Lee
Rookie card, short print
ex
1948 Bowman
22
Sammy Baugh
Washington Redskins
quarterback, coach
TCU
Redskins Ring of Fame, College Hall of Fame 1951, Pro Football Hall of Fame 1963
Rookie card

Baugh led the NFL in passing yards for the fourth time in 1948.
PSA 3, PSA 3 mc
1948 Bowman
23
Don Kindt
Chicago Bears
halfback, defensive back
Wisconsin
Rookie card

Kindt's son, Don Kindt Jr., played for the Chicago Bears in 1987.
exmt
1948 Bowman
24
John Koniszewski
Washington Redskins
tackle
George Washington
Rookie card, short print
ex miscut
1948 Bowman
25
Pat McHugh
Philadelphia Eagles
halfback
Georgia Tech
Rookie card

Buying? Search nearmintcards.com for 1948 Bowman.

Show all eBay listings for 1948 Bowman football cards.