1969 Topps 4-in-1 #13: Reg Carolan, Larry Garron, Pete Jaquess, W.K. Hicks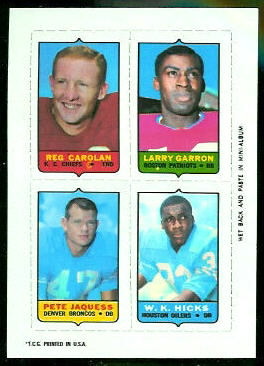 Reg Carolan never appeared on a regular Topps card. (See my blog article, 1969 Topps 4-in-1 Oddities.) Carolan's son, Brett, played for the Dolphins and 49ers in the mid-1990s.

Buy this card at nearmintcards.com!
Grades available: PSA 9, nm.