1968 Topps #33: Bill Saul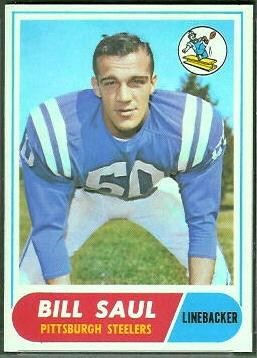 Team: Pittsburgh Steelers
Position: linebacker
College: Penn State
Hometown: Unionville, PA
Rookie card
Saul played nine seasons for the Baltimore Colts, Pittsburgh Steelers, New Orleans Saints, and Detroit Lions. This card shows him in his Colts uniform, though he had been with the Steelers since 1964. Saul's younger brothers, Rich Saul and Ron Saul, also played in the NFL.

Buy this card at nearmintcards.com!
Grades available: nm.