1968 Topps #125: Ron Vander Kelen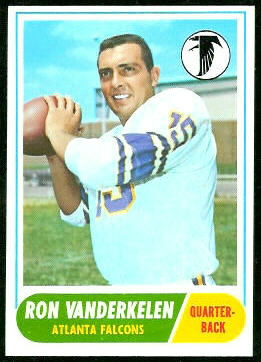 Team: Atlanta Falcons
Position: quarterback
College: Wisconsin
Hometown: Green Bay, WI
Rookie card
Vander Kelen played for the Vikings from 1963 to 1967. The Vikings traded him to the Falcons in 1968, but he did not play a regular season game for the Falcons. Vander Kelen and Pete Beathard were the MVPs of the 1963 Rose Bowl, in which #1 USC beat #2 Wisconsin 42-37.

Buy this card at nearmintcards.com!
Grades available: nm.