1960 Fleer #31: Jim Yeats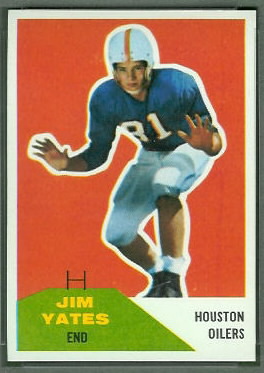 Team: Houston Oilers
Position: end
College: Florida
Hometown: Corpus Christi, TX
Error card
Yeats played in one game for the Houston Oilers in 1960. His last name is misspelled "Yates" on this card. See my Cups of Coffee page for cards of other players who appeared in exactly one NFL, AFL, or AAFC game.

Buy this card at nearmintcards.com!
Grades available: SGC 92, nm.