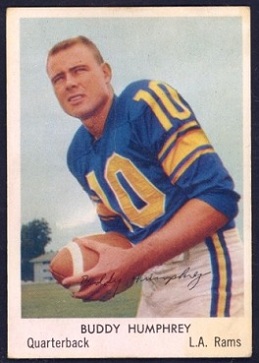 Want to use this image? See the About page.
Buddy Humphrey - 1959 Bell Brand Rams #2
Humphrey and Larry Hickman were teammates at Kilgore (Texas) High School and at Baylor University. Humphrey played eight seasons for the Rams, Cowboys, St. Louis Cardinals, and Houston Oilers.

Buy this card at nearmintcards.com!
Grades available: PSA 3, PSA 1.5.