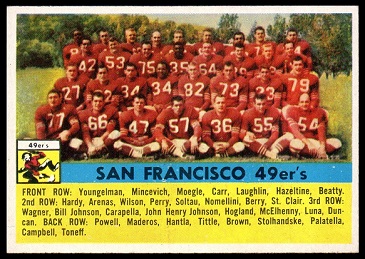 Want to use this image? See the About page.
San Francisco 49ers Team - 1956 Topps #26
This card pictures the 1955 49ers team. Most of the players on the card also appeared on 1955 49ers Team Issue Photos.
Move your cursor over the card to see the players' names.
Estimated value: ex $7, nm $28 explain
Player
#
Pro Team
Position
College
Hometown
Honors

Joe

Arenas

22

San Francisco 49ers

halfback

Nebraska - Omaha

Ed

Beatty

54

San Francisco 49ers

center

Mississippi

Rex

Berry

23

San Francisco 49ers

halfback

,

defensive back

Brigham Young

Carbon, UT

Hardy

Brown

33

San Francisco 49ers

linebacker

,

fullback

Tulsa

Quanah, TX

Marion

Campbell

76

San Francisco 49ers

defensive end

Georgia

Al

Carapella

75

San Francisco 49ers

guard

,

tackle

Miami Florida

Tuckahoe, NY

Paul

Carr

57

San Francisco 49ers

linebacker

Houston

Los Angeles, CA

Maury

Duncan

12

San Francisco 49ers

quarterback

San Francisco State

Oakland, CA

Bob

Hantla

69

San Francisco 49ers

guard

Kansas

St. John, KS

Carroll

Hardy

27

San Francisco 49ers

halfback

Colorado

Sturgis, SD

Matt

Hazeltine

55

San Francisco 49ers

linebacker

California

South San Francisco, CA
College Hall of Fame

Doug

Hogland

64

San Francisco 49ers

guard

,

tackle

Oregon State

Farmingham, NM

Bill

Johnson

53

San Francisco 49ers

center

,

coach

Texas A and M

Tyler, TX

John Henry

Johnson

35

San Francisco 49ers

fullback

Arizona State

,

St. Mary's

Pittsburg, CA
Pro Football Hall of Fame, 49ers Hall of Fame, Steelers Legends Team

Bud

Laughlin

36

San Francisco 49ers

fullback

Kansas

Kansas City, MO

Bobby

Luna

49

San Francisco 49ers

defensive back

Alabama

Lewisburg, TN

George

Maderos

40

San Francisco 49ers

defensive back

Chico State

Chico, CA

Hugh

McElhenny

39

San Francisco 49ers

halfback

Washington

Los Angeles, CA
Pro Football Hall of Fame, College Hall of Fame, 49ers Hall of Fame

Frank

Mincevich

66

San Francisco 49ers

guard

South Carolina

Dick

Moegle

47

San Francisco 49ers

defensive back

Rice

Leo

Nomellini

73

San Francisco 49ers

defensive tackle

Minnesota

Chicago, IL
Pro Football Hall of Fame, College Hall of Fame, 49ers Hall of Fame

Lou

Palatella

68

San Francisco 49ers

guard

Pittsburgh

Vandergrift, PA

Joe

Perry

34

San Francisco 49ers

fullback

Compton Community College

Stephens, AR
Pro Football Hall of Fame, 49ers Hall of Fame

Charlie

Powell

87

San Francisco 49ers

defensive end

San Diego, CA

Gordon

Soltau

82

San Francisco 49ers

end

,

kicker

Minnesota

Duluth, MN

Bob

St. Clair

79

San Francisco 49ers

tackle

Tulsa

San Francisco, CA
Pro Football Hall of Fame, 49ers Hall of Fame

Tom

Stolhandske

86

San Francisco 49ers

linebacker

,

defensive end

Texas

Baytown, TX

Y.A.

Tittle

14

San Francisco 49ers

quarterback

LSU

Marshall, TX
Pro Football Hall of Fame, 49ers Hall of Fame, Giants Ring of Honor

Bob

Toneff

74

San Francisco 49ers

defensive tackle

Notre Dame

Barberton, OH

Lowell

Wagner

42

San Francisco 49ers

back

USC

Santa Monica, CA

Billy

Wilson

84

San Francisco 49ers

end

San Jose State

Sid

Youngelman

77

San Francisco 49ers

defensive tackle

Alabama

Brooklyn, NY